Click on the image for a larger version of sketchnotes. This talk is part of the free MaRS Entrepreneurship 101 series (webcast and in-person session every Wednesday!)
Feel free to share this! You can credit it as (c) 2012 Sacha Chua under the Creative Commons Attribution 2.5 Canada licence.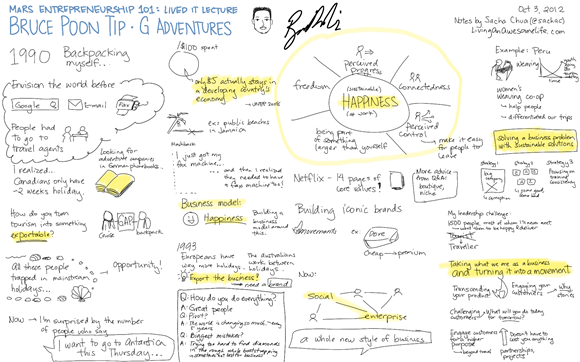 Missed the first session? Check out my sketchnotes for Finding and Validating Your Idea (Keri Damen).

Liked these notes? They're fun to do and I'm happy to share them. I learn, other people learn, everyone's happy! If you want, you can set up some time for tea/hot chocolate/Skype/Google Hangout (or e-mail me your thoughts), tell me what you're interested in, and help me in my quest to learn how to get really good at connecting the dots. =)

Looking forward to sharing more notes next week!

Text for searching

MARS ENTREPRENEURSHIP 101: LIVED IT LECTURE
BRUCE POON TIP. G ADVENTURES
1990 Backpacking myself…
Envision the world before
Google
Email
Fax
People had to go to travel agents
I realized…
Canadians only have ~2 weeks holiday.
Looking for adventure companies in German phone books..
How do you turn tourism into something exportable?
GAP
Cruise
backpack
all these people trapped in mainstream holidays…
opportunity !
Now –> I'm surprised by the number of people who say
I want to go to Antarctica this Thursday…
$100 spent
Only $5 actually stays in a developing country's economy.
–> UNEP 2008
Ex: public beahces in Jamaica
Flashback
I just got my fax machine..
… and then I realized they needed to have a fax machine too!
Business Model
Happiness
Building a buisness model around this.

1993
Europeans have way more holidays..
The Australians work between holidays..
Export the business! Now.
need a brand
(sustainable)
HAPPINESS
(at work)
– perceived progress
– freedom
– being part of something
– larger than yourself
– perceived control –> make it easy for people to leave
– connectedness
Netflix – 14 pages of core values!
More advice from Q&A: boutique, niche
Building iconic brands
Movements ex: Dove – cheap –> premium
Social
Enterprise
a whole new style of business
Oct 3, 2012
Example: Peru
Weaving
youth going into tourism industry
time
Women's weaving co-op
– help people
– differentiated our trips
Solving a business problem with sustainale salutions
Strategy 1: Big company: Corruption
Strategy 2: Some good, some bad
Strategy 3: Focusing on training consistency
My leadership challenge:
1500 people, most of whom I'll never meet, want them to be happy and deliver
Traveller
Taking what we are as a business and turning it into a movement.
Transcending your product
Engaging your customers –> why, stories
Challenging customers
What will you do today for tomorrow?
Engage customers for a higher purpose–> beyond travel
Doesn't have to cost you anything
Partnership, projects
Q: How do you do everything?
A: Great people
Q: Pivot?
A: The world is changing so much ~every 5 years
Q: Biggest mistakes?
A: Trying too hard to find diamonds in the rough while bootstrapping
sometimes not best for business

You can comment with Disqus or you can e-mail me at sacha@sachachua.com.