2013/07/29: Update: Watch the episode or read the transcript!
Mike Rohde's The Sketchnote Handbook (see my sketchnotes of it) focuses on pen-and-paper sketchnoting. I really enjoy digital sketchnoting, although there's a bit more of a barrier to entry in terms of hardware. I've figured out a pretty sweet workflow for live-publishing conference/event sketchnotes so that you can catch people while they're looking at the Twitter hashtag. Mike and I will be talking about digital workflows and tips for one of his podcasts, and I wanted to sketch my thoughts/talking points in preparation.
Click on the image for a larger version of the sketchnote.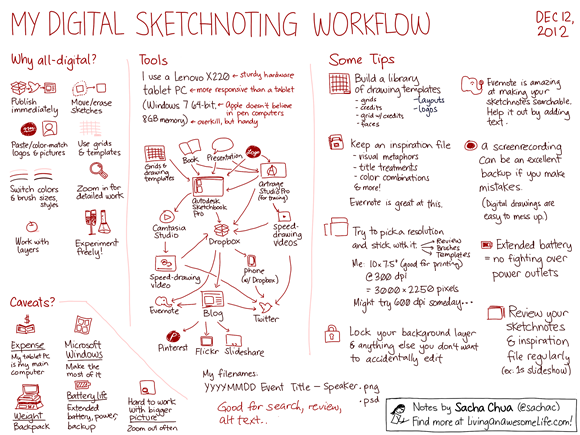 Not specifically mentioned there because it's more of a blogging setup, but WordPress + NextGen Gallery + Windows Live Writer + Text Templates plugin = great.

Feel free to share this! You can credit it as (c) 2012 Sacha Chua under the Creative Commons Attribution 2.5 Canada licence.

Like this? Check out my other sketchnotes and visual book notes. Want me to sketchnote your event? Know of any interesting tech / business talks coming up? I'd love to hear from you!

You can comment with Disqus or you can e-mail me at sacha@sachachua.com.