New to sketchnoting? Aside from reading Mike Rohde's The Sketchnote Handbook (see my sketchnote of it!) and Dan Roam's Back of the Napkin, how else can you grow your skills? Here are some ideas from how I keep working on improving my sketchnoting. Hope you find them useful!
Click on the image for a larger version of the sketchnote.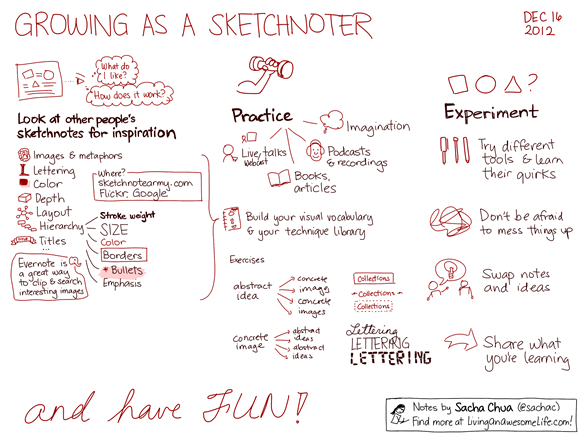 Feel free to share this! You can credit it as (c) 2012 Sacha Chua under the Creative Commons Attribution 2.5 Canada licence.
Check out my other sketchnotes and visual book notes. Want me to sketchnote your event? Know of any interesting tech / business talks coming up? I'd love to hear from you!
Thanks to Tamara Paton for the nudge to share this. =)
Sketchnote and got tips to share? Curious and have questions to ask? Comment below!