"I could never draw on a computer – I like paper too much." Lots of people shy away from drawing on a tablet or tablet PC because they feel limited by the technology. I like sketchnoting on my tablet PC – I feel like I can do so much more than I can do on paper! =) Here are some of the limitations I've come across and how I've worked around them.
It's hard to see the big picture
When I draw on an 8.5×11 or a 9×12 sketchbook – or when people do graphic recording on 4' rolls of paper – it's easy to see the big picture. On a tablet PC, I usually work zoomed-in so that I can write and draw neatly, but this means that I don't get a sense of how everything fits together.
This limitation depends on the tools that you use. I've tried using the "Views" feature in ArtRage 4 and the "Navigator" feature in Adobe Illustrator, but neither program was responsive and reliable enough for me to use for sketchnoting. Aside from a tiny thumbnail photo, Autodesk Sketchbook Pro doesn't have that kind of overall preview (yet?). Instead, I work around this limitation by frequently zooming in and out. The pen-based controls make it easy to do so, although it means that screen recordings are a little "bouncy".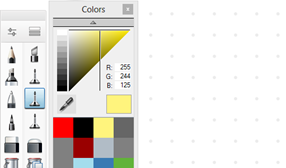 Another way I work around this limitation is to use a grid and pre-set brush sizes to keep sizes consistent. This means that even if I'm zoomed in, I don't have to worry about accidentally drawing one part much bigger than the other, and the whole image still hangs together.
Since I don't have a sense of how the page is laid out when I'm zoomed in and working on details, I usually leave plenty of whitespace around each of the sketchnote's elements. If I need to visually balance the page, I can use the lasso tool to move things around.
Tools take up valuable screen space
Because I don't see the entire image all at once and the toolboxes reduce how much screen estate I have available, I need to constantly pan or zoom. I get around this by organizing the user interface components in a compact, consistent configuration.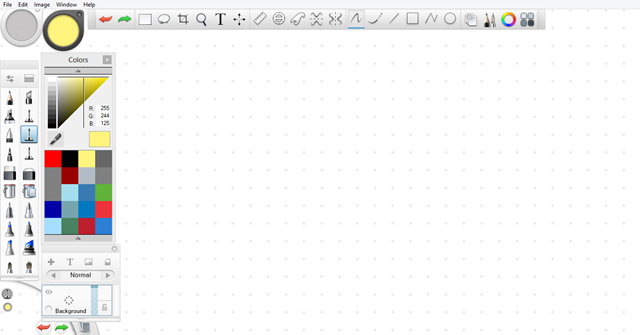 Picking the right thing to compare it with helps a lot. If I compare it with the full screen size or an 8.5×11" sheet of paper, I feel like I'm missing out. If I compare it with a pocket-sized notebook, on the other hand… I get about as much space, but a ton more functionality. =)
Autodesk Sketchbook Pro has shortcuts for hiding toolboxes and you can customize a small menu for quick access, but I haven't used them. When I'm drawing, I want to minimize how much I need to think about drawing, and I want my frequently-used tools to be one click away (not two, not three).
Battery life can be an issue
Although tablets can last almost a full day of drawing, powerful tablet PCs like the one I use can run out of juice pretty quickly. No power, no drawing!
If I'm going to sketchnote a 1-2 hour event, I can usually get by with my regular battery. I switch to low-power mode, turn off wireless, and dim the screen. If I want to upload the sketchnote right after the event, I turn wireless back on just before I'm ready to upload. This usually gets me through.
For longer events or for events where I want to make sure that I don't run out of power, I bring an external battery. With the external battery, I can get through a day of sketchnoting without needing to look for a power supply. If I'm sketchnoting a conference, I try to scout out power outlets (either in the presentation room or in the staff lounge) so that I can recharge the battery over lunch, just in case.
Tablet PCs are heavy
The power and performance come at a price: my laptop/tablet PC is 1.76kg on its own, and 2.7kg total with the extended battery. Then there's the charger, a backup sketchbook, a water bottle, some snacks… My bag gets pretty full and heavy!
If I can bike to the event, I usually load up my saddlebags and fasten things securely. If not, I'll take a padded backpack with chest and waist straps. I might look like I'm going camping, but at least I'm ergonomically sorted out.
You can lose data if the computer crashes or if you make mistakes
… and believe me, this has happened before. I've had problems with Microsoft OneNote and Adobe Illustrator on my tablet PC, and with Autodesk Sketchbook Pro on my Android tablet. That's why I've settled on using Autodesk Sketchbook Pro on a tablet PC, which seems to be a much more reliable
I've also made silly mistakes like accidentally moving instead of panning, which meant that some of my drawing went "off-screen" and was lost. To guard against this, I use Camtasia Studio to record my screen during important sketchnoting sessions. That way, I can export selected images from my recording, or I can use the audio to help me redo the sketch.
After the event, I back up, back up, and back up. I save sketchnotes to Dropbox, and I back up my computer weekly to an external drive. I also e-mail or publish sketchnotes as soon as I can, so then the event organizer has a copy.
It's easier to forget about your sketches because you can't flip through them as easily
One of the nice things about sketchbooks is being able to quickly flip through it and rediscover old sketches. You can lose track of digital sketchnotes on your computer and you don't have those physical encounters to remind you of them. I get around this by saving my sketchnotes to Evernote (so that they turn up whenever I search my notebooks or Google). I also publish as many as possible on my blog, so that I come across them when reviewing my archive or when other people link to or comment on them.
How do you work around the limitations of the tools that you use? What other limitations are holding you back? Please share comments or links below!
Alex M. Chong (Visual Thinkers Toronto co-organizer) suggested that we share our experiences in overcoming limitations. Here's my contribution!