The weather has really cooled down. W- turned off the water outside so that the pipes and hoses don't freeze, and we're letting the plants ride out the rest of the season before putting everything to bed. I have some garlic that I want to plant, although last year's batch didn't do too well. Anyway, here are my plans for gardening next year: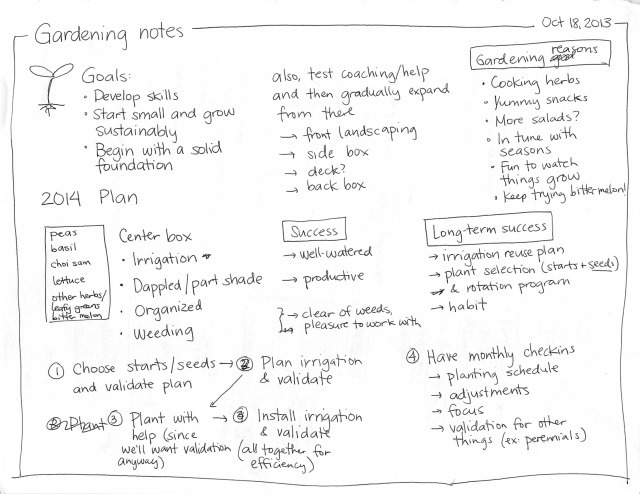 I'm going to focus on the center box. Irrigation will be more expensive than watering by hand, but it will let me be more consistent while I focus on building habits around weeding, planting, and harvesting. If things go well, I can branch out to other boxes. Doesn't make sense to add more growing areas – even a box on our much sunnier deck – until I can get the basics sorted out.
The box that I'm planning to plant in gets about 3-4 hours of dappled afternoon sun, which isn't much. Maybe some of the greens will work well. The eternal optimist in me will keep giving bitter melons a try, since W- really likes them and there was that one season where they nearly took over the garden.
I met with Alex of Young Urban Farmers recently. The company offers garden coaching, so we might go for that since the feedback cycle for growing is just sooooo long. Alternatively, anyone in Toronto up for getting together and swapping notes? The Internet is great, but it's hard to troubleshoot things that you don't recognize or have the words for, and I have a feeling I don't even know what I'm missing. =)
Update 2013-11-08: More plans!