It's funny how easy it is to forget what you've done. Anyway, this week was the week of system administration! Lots of good stuff. On the learning front, I learned a lot about mapping.
Way more sleep this week – I wonder why…
Blog posts
Quick notes
Rails was redirecting to SSL after login. Fixed by removing SSL options from Nginx site config.
Oh, my sitemap hadn't been updated in 2003. Added a redirect rule to use the one created by SEO by Yoast.
Link roundup
Sketches
Focus areas and time review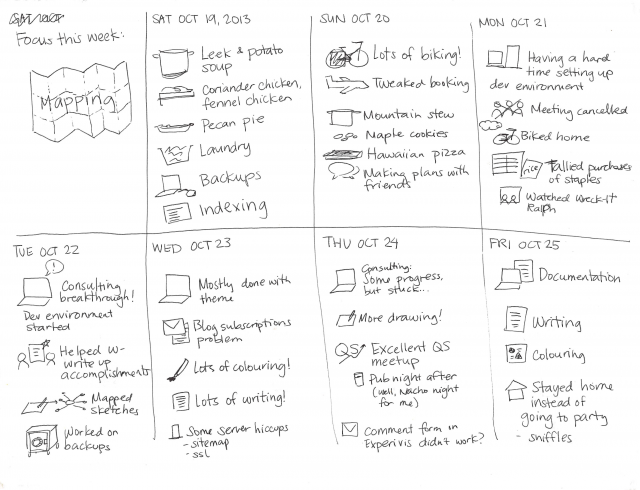 Business (58.3h – 34%)

Earn (20.3h – 34% of Business)

[X] Earn: Consulting – E1 – Monday half-day
[X] Earn: Consulting – E1 – Thursday
[X] Earn: Consulting – E1 – Tuesday
[X] Earn: Consulting – E1 – Wednesday half-day
[ ] Earn: Consulting – E1 – Monday half-day
[ ] Earn: Consulting – E1 – Thursday
[ ] Earn: Consulting – E1 – Tuesday
[ ] Earn: Consulting – E1 – Wednesday half-day

Build (27.3h – 46% of Business)

[X] Add Evernote to my backup plan
[X] Add a Makefile target (copy-to-combat) that copies my webserver backups to the home server
[X] Check on sitemap
[X] Disable pingbacks in dev?
[X] Doublecheck contact form on Experivis – broken?
[X] Fix sitemap submission
[X] Get nginx running
[X] Load all the databases
[X] Make sure Quantified Awesome works
[X] Make sure backups are properly encoded
[X] Quit Skype to free up port 80, use that instead
[X] Set up my hosts file and domain names
[X] Solve why Rails is redirecting to https
[X] Track down subscription duplication
[X] Try to get old backup drive working again
[ ] Set up WP caching
Quantified Awesome (1.7h)

[X] Analyze yearly consumption
[ ] Sort clothes by name by default

Drawing (6.5h)

[X] Map out Lion Kimbro's book
[X] Practise using multiple colours
[ ] Break another ten sketchnotes down into components and file them
[ ] Draw something technical
[ ] Rescan black sketchbook

Paperwork (0.8h)

[ ] File payroll return
[ ] Pick up paper T2 from Enterprise Toronto in City Hall

Connect (10.6h – 18% of Business)

[X] Host Quantified Self Toronto meetup
[X] Process and upload another QS Toronto video

Relationships (1.4h – 0%)
Discretionary – Productive (6.2h – 3%)
Discretionary – Play (4.2h – 2%)
Personal routines (18.9h – 11%)
Unpaid work (18.0h – 10%)
Sleep (67.4h – 40% – average of 9.6 per day)