Super-typhoon Haiyan/Yolanda was a complete mess. My family is okay, but lots of people aren't.
Find out how you can help.
In Canada? The Canadian government is
matching donations made through Red Cross and other charities
. I'm donating in lieu of buying gifts, and we're going to see about helping out more when we're in the Philippines next month.
Blog posts
Link roundup
Sketches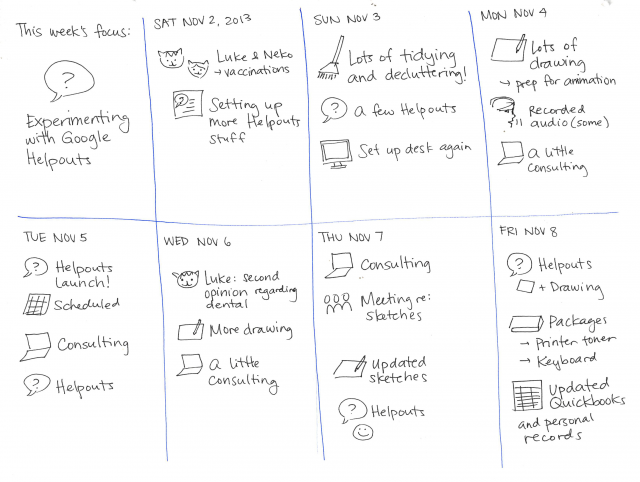 Oh, I filed taxes on Monday, too!
Focus areas and time review
Business (55.6h – 33%)

Earn (20.2h – 36% of Business)

[X] Earn: Consulting – E1 – Thursday
[X] Earn: Consulting – E1 – Tuesday
[X] [#A] Draw sketch ideas for different "scenes" for the first script
[X] [#A] Record audio for trailer
[ ] [#A] Sketch and animate trailer
[ ] Earn: Consulting – E1 – Thursday
[ ] Earn: Consulting – E1 – Tuesday

Build (15.6h – 28% of Business)

[X] Set up incremental backups
Quantified Awesome (0.0h)
Drawing (10.6h)

[X] Draw something technical
[X] Process October sketches for visual vocabulary purposes
[X] Rescan black sketchbook
[ ] Convert sketches into blog posts
[ ] Draw more emotions

Paperwork (1.7h)

[X] Call CRA for web access code
[X] File T2
[X] File payroll return
[X] Log depreciation expenses
[X] Log taxes paid

Connect (19.8h – 35% of Business)

[ ] Start planning Friday evening Hangout session – maybe 29th
[ ] Set up mailing list for notetaking and learning

Relationships (8.4h – 4%)

[X] Call Bathurst Dupont Animal Hospital
[X] Call Bloor West Animal Hospital to see if they can refer to a lower rate
[X] Call Fraser
[X] Set up project management for house stuff?
[X] [#B] Comparison-shop for Luke's possible dental work
[X] Take Luke to Bathurst Dupont Animal Hospital for a second opinion
[ ] Have vaccination information faxed over
[ ] Prototype box cover cushion
[ ] Reply to the Hattoris

Discretionary – Productive (8.2h – 4%)

[X] Look into johnw video problems
[X] [#A] Reflect on delta
[ ] Process chat with Magnar – time bookmarks
Writing (6.3h)

Discretionary – Play (4.7h – 2%)
Personal routines (17.3h – 10%)
Unpaid work (18.3h – 10%)
Sleep (59.8h – 35% – average of 8.5 per day)