This week started off really fuzzy (sore throat, boo), but I'm feeling back to normal now. I remember that week to have been pretty slow, but now that I review it, it seems like a good week after all. Funny how that works.
Our new barbecue arrived, yay! We chose to assemble it ourselves instead of taking advantage of the store's offer of complimentary assembly. It was fun putting the barbecue together with W-. Now that we have a rotisserie, we're focusing on getting the hang of rotisserie chicken. That promises to be a yummy addition to our cooking repertoire.
As a personal reward for progress on one of my projects, I treated myself to Liberty fabric this week. It's more expensive than other cottons, but it feels nice. I'm looking forward to cutting and sewing it into yet another one of my tops. Oh yeah, I sewed a soft-sided box and a lined zippered pouch… Mwahahaha!
Oh, and I watched Age of Ultron with my consulting clients. =) Fun movie! I wore that Marvel top I made, for extra fangirling…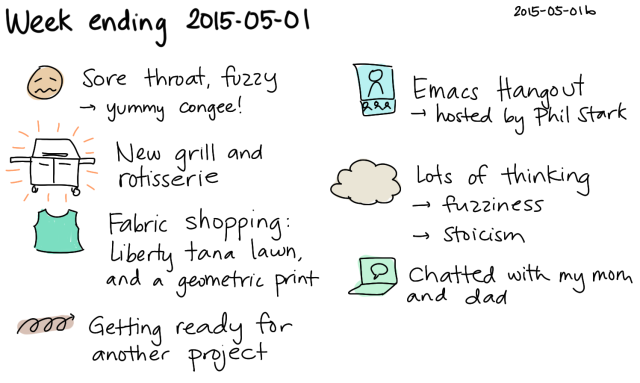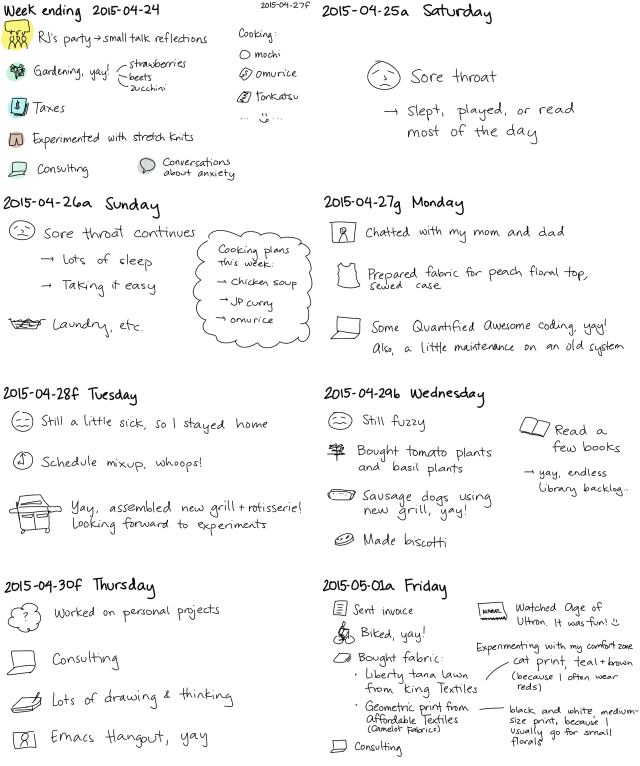 Blog posts
Sketches
Journal
Fuzziness
Anxiety
Tech and the home
Raw book notes
Philosophy
Focus areas and time review
Business (17.5h – 10%)

Earn (7.4h – 42% of Business)

☑

Prepare invoice

☑

Send time to E1

☑

Earn: E1: 1-2 days of consulting

☐

Earn: E1: 1-2 days of consulting

Build (9.8h – 56% of Business)

Drawing (8.0h)
Paperwork (0.7h)
Quatified Awesome

☑

Fix user edit screen

☑

Look into time graph

Connect (0.3h – 1% of Business)

Relationships (9.4h – 5%)
Discretionary – Productive (19.9h – 11%)

Emacs (3.5h – 2% of all)

☑

Send reminder to hangouts list

☑

Help with Emacs Hangout

☐

Update G+ event for conference thing

☐

Announce upcoming hangout

☐

Reschedule Emacs Lisp Development Tips episode with jwiegley

☐

Update previous hangout with link

Sewing

☑

Prepare pattern for boxes

☑

Order PUL

☐

Prepare fabrics for tops

☐

Finish leggings

☐

Cut tops

Writing (2.3h)

Discretionary – Play (15.2h – 9%)

☐

Check out cherry blossoms

Personal routines (24.2h – 14%)
Unpaid work (12.5h – 7%)
Sleep (69.3h – 41% – average of 9.9 per day)