Lots of sleep this week, and few blog posts in the pipeline. On the plus side, I did manage to get a little coding in – learning how to use BlueMix on one hand, and making an edit-in-place grocery receipt interface on the other. Oh, and SketchUp!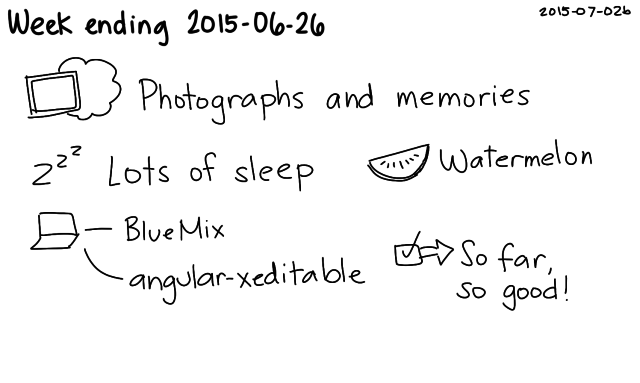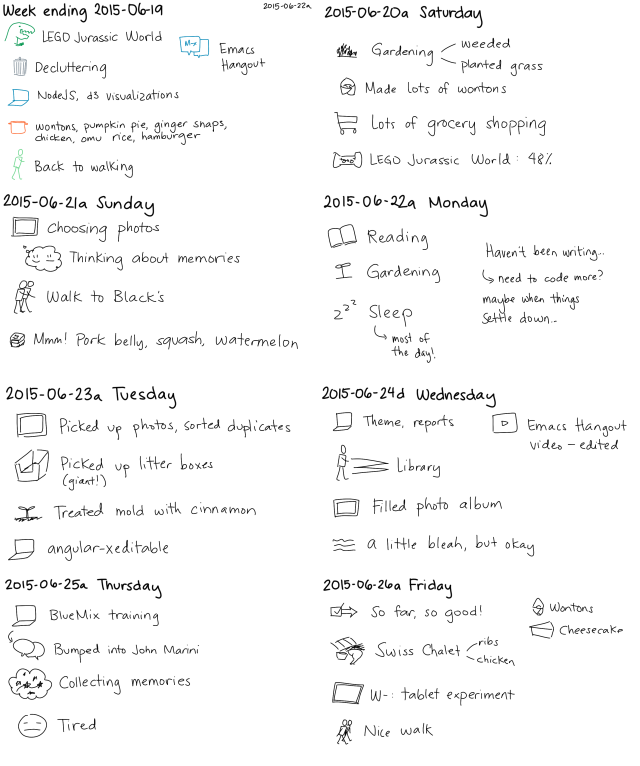 2015-07-02b Week ending 2015-06-26 – index card #journal #weekly
Blog posts
Sketches
Focus areas and time review
Business (21.7h – 12%)

Earn (11.3h – 51% of Business)

☐

Earn: E1: 1-2 days of consulting

☑

BlueMix training

Build (10.4h – 48% of Business)

Drawing (4.6h)
Paperwork (0.0h)

Connect (0.0h – 0% of Business)

Relationships (11.1h – 6%)
Discretionary – Productive (4.0h – 2%)

Emacs (0.3h – 0% of all)

☑

Edit Emacs Hangout video to blur avy-jump demo

☑

Organize photos

☑

Make better interface for cleaning grocery data

☑

Return friendly name in JSON

☑

Get data input working again

☑

CAD a ramp for the shed

☑

Figure out how to run Jasmine tests

☑

Get data types management working
Writing (1.0h)

Discretionary – Play (27.0h – 16%)
Personal routines (18.7h – 11%)
Unpaid work (11.7h – 6%)
Sleep (73.8h – 43% – average of 10.5 per day)
You can comment with Disqus or you can e-mail me at sacha@sachachua.com.