My birthday was last week. I had fun reviewing the past year. So much has happened, and I've learned a lot: new skills, deeper interests, and so on. Yay!
I've been dealing with a lot of bleahs. W- has taken over cooking and has been wonderfully supportive. With any luck, I should be out of this phase soon.
Still have a hard time with focused thinking, but fortunately, the programming I do for my consulting clients isn't blocked like that. When I find it difficult to write, I fill my mind with reading instead. I've been going through a lot of nonfiction books and science fiction novels from the library, and I've started picking up Latin again.
I've been playing around with doodling a bit more. It's fun sketching a few random curves and seeing where my imagination goes, or gradually shaping a drawing into something that resonates with me.
W- and I finished True Vault Hunter Mode (TVHM) in Borderlands 2, hooray! Now we're going through side missions and occasionally farming loot. I often join him for a few hours of gaming in the evening. Good for in-jokes and shared experiences.
Next week: small steps…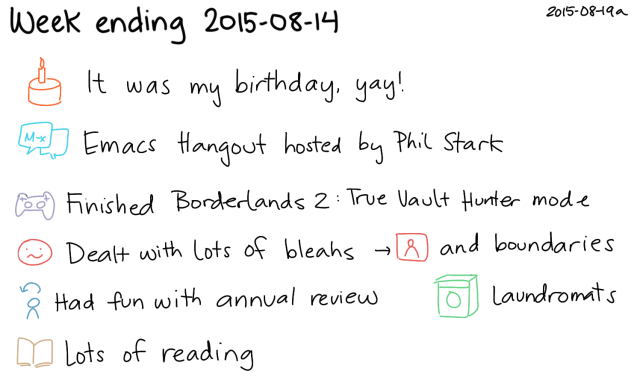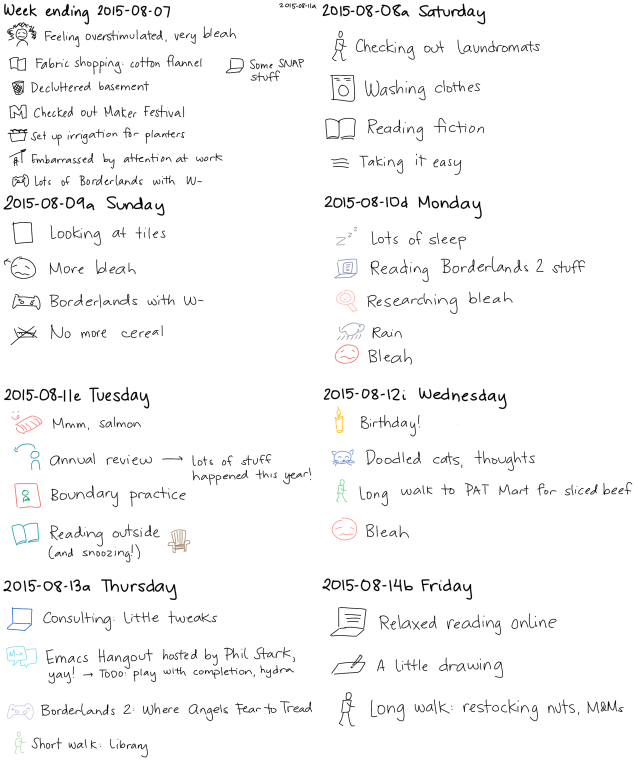 Blog posts
Sketches
Link round-up
Business (9.9h – 5%)

Earn (4.4h – 44% of Business)

☑

Earn: E1: 1-2 days of consulting

Build (5.5h – 55% of Business)

Drawing (5.5h)
Paperwork (0.0h)

Connect (0.0h – 0% of Business)

Relationships (9.0h – 5%)
Discretionary – Productive (8.6h – 5%)

Emacs (1.7h – 0% of all)
Writing (2.1h)

Discretionary – Play (42.6h – 25%)
Personal routines (28.7h – 17%)
Unpaid work (1.0h – 0%)
Sleep (68.1h – 40% – average of 9.7 per day)
You can comment with Disqus or you can e-mail me at sacha@sachachua.com.