More sewing. I'm becoming pretty comfortable with the idea that I can make things that are as good as the things I find in store (at least the basic things that I've been eyeing for starters).
We spent some time in Borderlands 2 farming for a specific item called The Bee. It really does change the game, even after the modification.
Lots of walking this week, despite the cooler weather and the return of the major bleahs. Yoga, too, and catching up with friends. Still, slowly, slowly…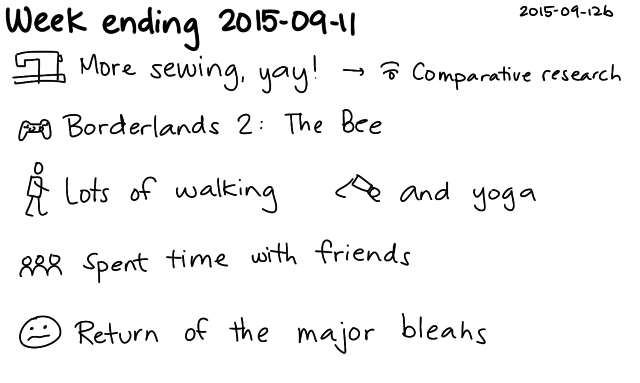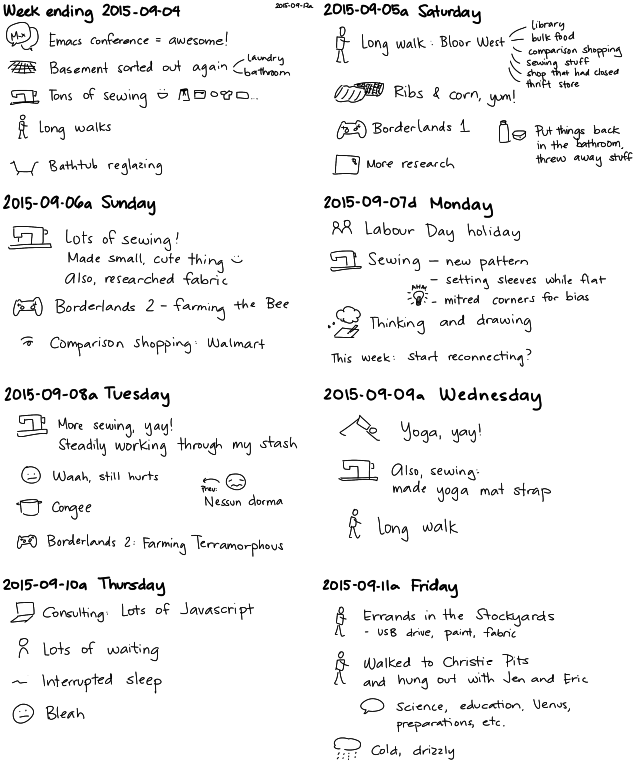 Blog posts
Sketches
Focus areas and time review
Business (14.2h – 8%)

Earn (8.2h – 57% of Business)
Build (6.0h – 42% of Business)

Drawing (6.0h)
Paperwork (0.0h)

Connect (0.0h – 0% of Business)

Relationships (4.8h – 2%)
Discretionary – Productive (20.1h – 11%)

Emacs (0.0h – 0% of all)
Writing (0.0h)

Discretionary – Play (11.0h – 6%)
Personal routines (40.2h – 23%)
Unpaid work (3.4h – 2%)
Sleep (74.3h – 44% – average of 10.6 per day)
You can comment with Disqus or you can e-mail me at sacha@sachachua.com.