This was an excellent week for making things and for getting things done.
We spent Saturday reorganizing the pantry and freezer, throwing out things that had long since expired. We dedicated an eye-level area for snacks and things that weren't too far past their expiration date, and we've been making excellent progress going through these. The new system seems to be working well.
Two sewing milestones! I modified a pattern to add a zipper and a gathered section, and that worked out nicely. I also sewed my first buttoned shirt. It looks recognizably shirt-like, hooray! I want to make a few comfy flannel shirts, but a wide-ranging search of fabric stores didn't turn up the kind of flannel I was looking for. Oh well, I'll just keep looking. In the meantime, I've added quite a few yards to my stash. I look forward to sewing my way through them. I'm also curious about generating SVG patterns based on measurements, especially if I can use them (with a little modification) for laser cutting.
A couple of new things for cooking, too. We've settled into a bubble tea / ginataan routine at home, both nice afternoon treats. I learned how to make tapioca pearls from scratch, too. I made corned beef steamed buns using a bun mix from the Asian supermarket. The dough needs a little work, but the filling was perfect. Yum.
Motivated by a podcast session on Friday with Daniel Gopar (we talked about the Emacs community), I finally got around to splitting up the Emacs Conf 2015 videos into individual talks and assembling them into a playlist.
Whee! Next week: Paperwork, sewing, and hanging out with people…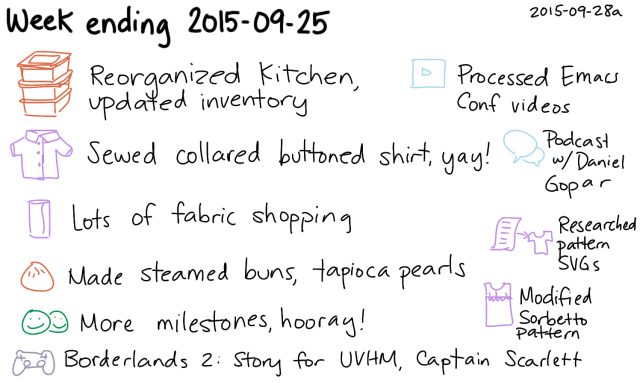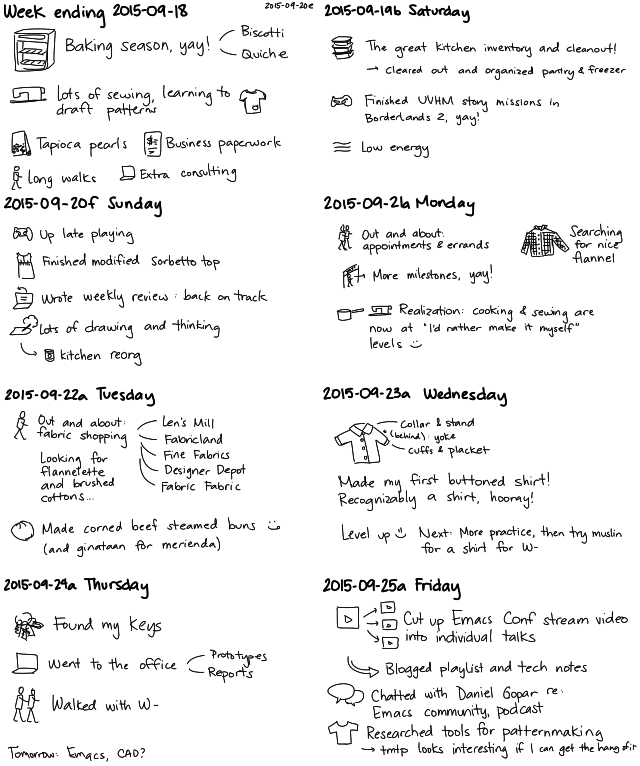 Blog posts
Sketches
Focus areas and time review
Business (11.3h – 6%)

Earn (5.6h – 49% of Business)
Build (5.4h – 47% of Business)

Drawing (3.0h)
Paperwork (0.0h)

Connect (0.4h – 3% of Business)

Relationships (0.0h – 0%)
Discretionary – Productive (24.3h – 14%)

Emacs (6.2h – 3% of all)

☑

Process Emacsconf videos

☐

Announce Emacs Hangout

☑

Check out open source tools for patternmaking
Sewing (14.6h)
Writing (1.6h)

Discretionary – Play (13.9h – 8%)
Personal routines (31.0h – 18%)
Unpaid work (22.2h – 13%)
Sleep (65.1h – 39% – average of 9.3 per day)