This week was more of a social one. My parents, sisters, and their families are in California for a vacation, so I called to say hi. We also hosted a houseguest I know from the Emacs community, and that worked out okay too. I ran into a few technical issues when hosting an Emacs Hangout, but fortunately we managed to get those sorted out.
A light week in terms of work – it was a little difficult to concentrate – but otherwise okay. More progress on various projects, yay! I've been taking advantage of small chunks of concentration time to automate or research various bits for my setup, so we'll see if that pays off.
Looking forward to doing my year-end reviews this coming week. It's been an odd year, but maybe it will make more sense when I look back. =)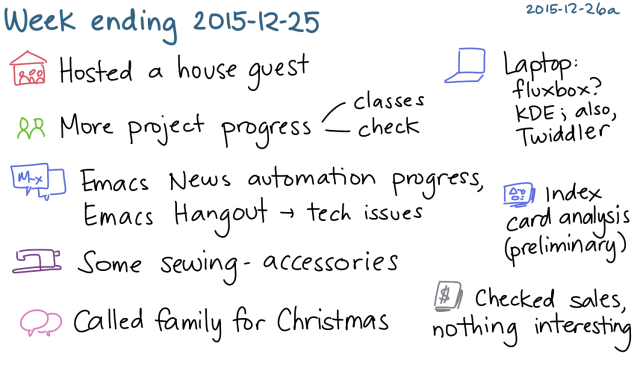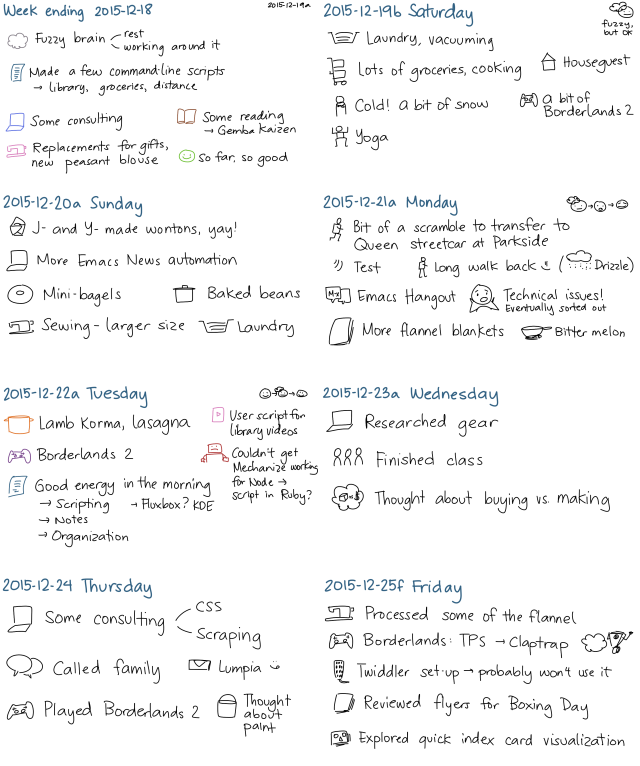 Blog posts
Sketches
Focus areas and time review
Business (13.1h – 7%)

Earn (4.7h – 36% of Business)

☐ Earn: E1: 1-2 days of consulting
☐ Prepare invoice

Build (7.0h – 53% of Business)

Drawing (3.1h)
Paperwork (0.0h)

Connect (1.4h – 10% of Business)

Relationships (17.5h – 10%)

☑ Copy gear research to Evernote

Discretionary – Productive (13.6h – 8%)

Emacs (5.9h – 3% of all)

☑ Do another Emacs News review
☑ Make a list of recent Reddit links
☑ Update org-protocol patch based on feedback
☑ 2015-12-21 Emacs Hangout
☑ Correctly link to package based on source – yes, ELPA does actually add packages
☑ Refile and jump
☑ Add an insert-link protocol
☐ Do another Emacs News review

Preparation and automation

☑ Anticipate a worst-case scenario and write down ways to mitigate it
☑ Update script to renew library items
☑ Write a user script for quickly displaying the status of library videos
☑ Set up bitlbee
☑ Fix gpg agent issue
☑ Organize business tax information so that I have all my notes handy for next year
☑ Explore fluxbox
☑ Investigate kde baloo error with watches
☑ Figure out if it's the new Plasma or something else that's jittering my X refresh
☑ Find my Twiddler and set that up again

Sewing (2.1h)
Writing (3.9h)

☑ Check out love languages thing

Discretionary – Play (14.0h – 8%)
Personal routines (34.5h – 20%)
Unpaid work (19.0h – 11%)
Sleep (56.3h – 33% – average of 8.0 per day)
You can comment with Disqus or you can e-mail me at sacha@sachachua.com.