With W- recovering from a bad cough and my sleep quality going a bit downhill due to other reasons, it's been mostly about maintenance mode this week. I got a little bit of coding done for both my consulting client and a personal project, but nothing spectacular. I've been taking it pretty easy instead: reading e-books, checking out games that friends have recommended, and just generally keeping the house going. On the plus side, the ease of putting together a roast vegetable salad means I've been eating a lot more vegetables lately. Yay!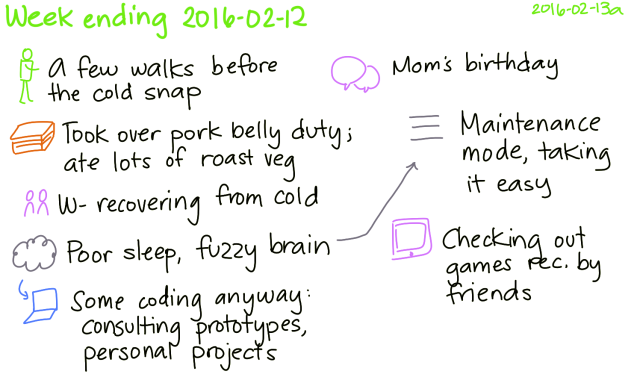 Blog posts
Sketches
Journal
Games
5-year experiment
Focus areas and time review
Business (26.5h – 15%)

Earn (12.4h – 46% of Business)

☑ Earn: E1: 1-2 days of consulting

Build (12.6h – 47% of Business)

Drawing (8.0h)
Paperwork (1.3h)

Connect (1.6h – 5% of Business)

Relationships (4.6h – 2%)

☑ Renew pet licence for Neko
☑ Reflect on prickly thoughts
☑ Call mom

Discretionary – Productive (6.9h – 4%)

Emacs (1.1h – 0% of all)
Sewing (0.0h)
☑ Check other window manager for freezing
Writing (2.3h)

Discretionary – Play (13.2h – 7%)
Personal routines (34.2h – 20%)
Unpaid work (15.4h – 9%)
Sleep (67.1h – 39% – average of 9.6 per day)
You can comment with Disqus or you can e-mail me at sacha@sachachua.com.