My time records this week are all out of whack. I was away from phone, computer,
and
paper for a few days. For an awesome reason, though! =) The next few weeks will probably be a crash course on the practical aspects of keeping a human being alive and thriving. There's only so much you can learn from books, websites, and videos, after all.
I'm going to try to keep that daily journal habit going, as well as the occasional braindump. I don't want to post too many details (the eternal memory of search engines!), but I'm looking forward to finding a good balance so that I can continue to think and learn out loud as we start on this new adventure. Here we go!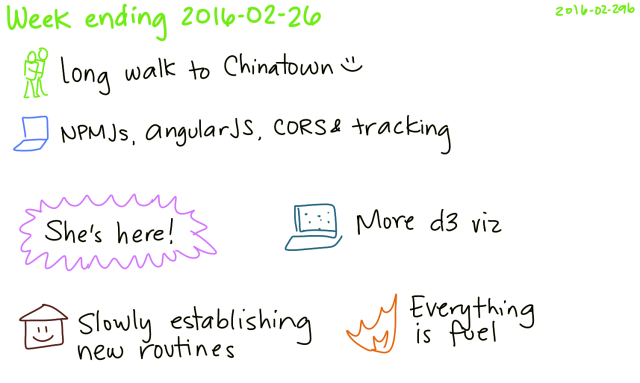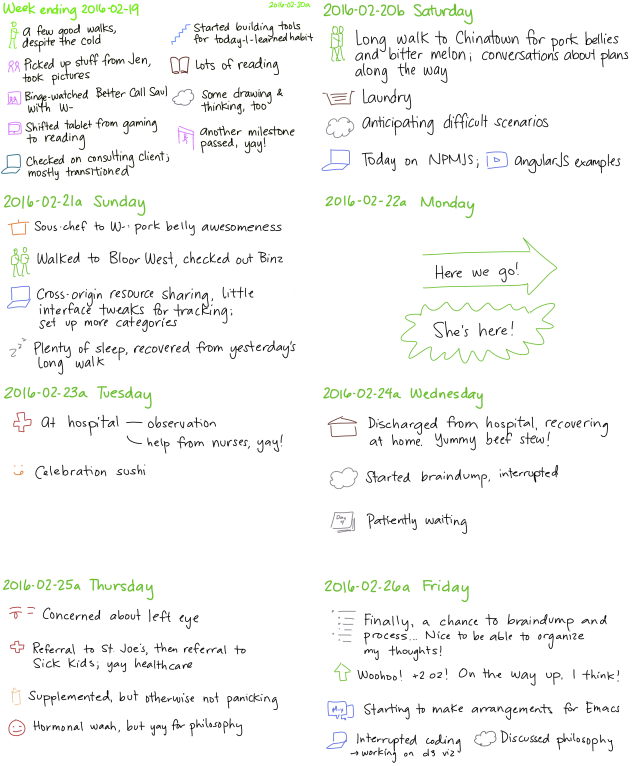 Blog posts
Sketches
Focus areas and time review
Business (7.3h – 4%)

Earn (0.0h – 0% of Business)
Build (7.2h – 99% of Business)

Drawing (3.9h)
Paperwork (1.2h)

Connect (0.1h – 0% of Business)

Relationships (5.0h – 2%)
Discretionary – Productive (2.3h – 1%)

Emacs (0.2h – 0% of all)
Sewing (0.0h)
Writing (2.1h)

☑ Braindump and process things that have happened

☑ Make a mini-app for NPM today view
☑ Plan a simple tracking interface
☑ Build data analysis tool for baby data
☑ Easily dump CSV for baby data
☑ Consider dentist change

Discretionary – Play (4.4h – 2%)
Personal routines (48.3h – 28%)
Unpaid work (57.8h – 34%)
Sleep (43.0h – 25% – average of 6.1 per day)
You can comment with Disqus or you can e-mail me at sacha@sachachua.com.