I found time for a little bit of coding, sewing, and cooking this week. Awesome! I set up a backup of my sketches on my server, learned more about d3 visualizations by plotting nursing sessions on a timeline, sewed a soft cube with a rattle inside, and got around to cooking the sweet potato I asked W- to pick up. =) I also did some paperwork, posted Emacs News (yay!), and followed up on some things. We went for lots of good walks around the neighbourhood, including an extended walk to Home Depot in the Moby wrap. I've been practising with the ring sling and with a different hold for the Moby, too. Progress!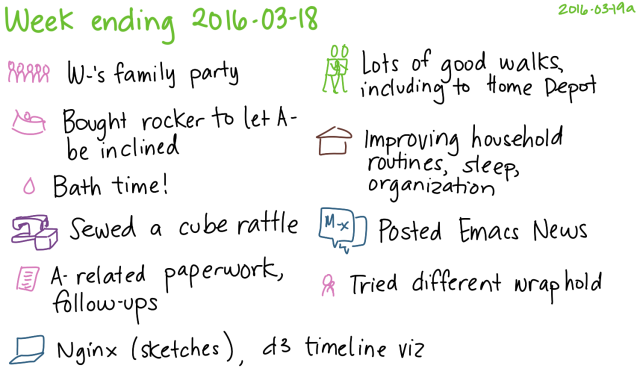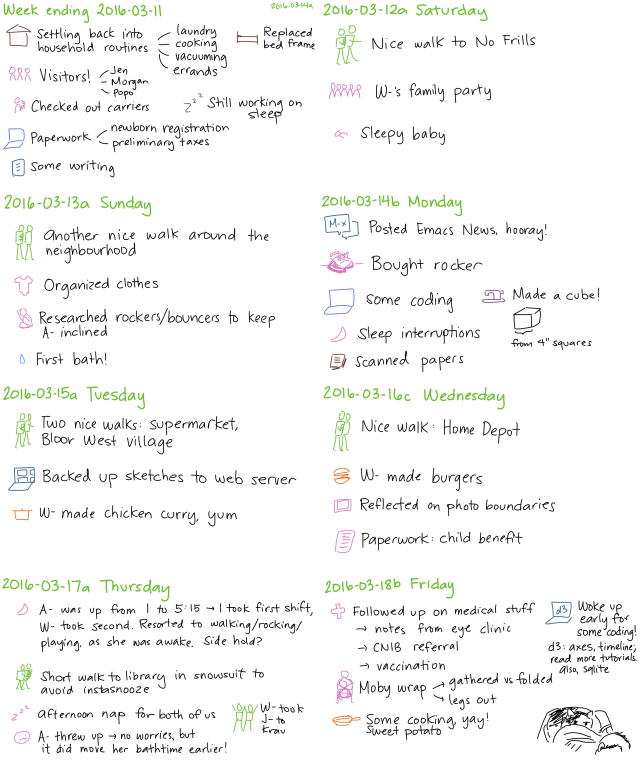 Blog posts
Sketches
Focus areas and time review
Business (9.2h – 5%)

Earn (0.0h – 0% of Business)
Build (9.1h – 98% of Business)

Drawing (4.0h)
Paperwork (1.0h)

Connect (0.2h – 1% of Business)

Relationships (4.2h – 2%)

☑ Buy rocker
☑ Check re hearing screening
☑ Call SickKids about doctor notes
☑ Child benefits application extra info
☑ Book tentative vaccination appointment in case pediatrician referral falls through
☐ Trim Neko's claws
☐ 4-week appointment with midwife

Discretionary – Productive (3.0h – 1%)

Emacs (0.3h – 0% of all)
☑ [#A] Do another Emacs News review
Baby viz

☑ Click on a dot to go to the record
☑ Add timeline view
☑ Cache data in a local SQLite

☑ Check expiry and create tasks
☑ Set up sketches directory on my web server
Sewing (0.4h)
Writing (0.0h)

Discretionary – Play (5.6h – 3%)
Personal routines (20.3h – 12%)
Unpaid work (77.2h – 45%)

Childcare (59.4h – 35% of total)

Sleep (71.4h – 42% – average of 10.2 per day)
You can comment with Disqus or you can e-mail me at sacha@sachachua.com.