The week was off to a rough start. A- was hard to settle to sleep on Saturday. W- spent some time bouncing her up and down in case she was antsy from being confined in the carrier most of the day, and that entertained her for a bit before she went to bed. But A- kept waking up crying throughout the night, which made her congested. I snuggled her and rocked her each time, sometimes sleeping on an incline to help with her breathing. We both got very little sleep. I tried looking up tips on the Internet, but I was too sleepy to read the information or feel confident about giving her painkillers. Once W- woke up, he gave her some infant Motrin. Then she finally settled down for a 3-hour nap, which meant I could sleep too. Sunday was mostly a low-power day. Fortunately, there was plenty of food in the fridge and freezer. Our sleep/eat routines were all thrown off, though. Oh well!
I picked up a cold somewhere along the way too. That combined with the chilly rain meant this was a mostly indoors low-energy sort of week. Such is life. Fortunately, there are lots of easy-to-make comfort-food meals involving chicken, which happened to be on sale this week. I managed to make quite a few fresh dinners: chicken noodle soup, arroz caldo, and so on.
I hit a roadblock on my consulting project, but I think I can figure out a way around it. Might be something about the way the server is set up… It's hard to debug or explore when there's not a lot of documentation, but I can think of a few things to try.
A- shared a bagel with W- by putting it in his mouth – yay, sharing! Lots of peekaboo on my end – she's getting quite good at tugging the cloth away. And I think she's started giving slobbery open-mouthed baby kisses, or at least that's what I'm going to call this "grab your face and mash it into my tongue" thing.
I've been thinking about the kinds of toys I'd like to expose A- that I can't find in the neighborhood resource centres or that I'd like to have at home so that she can develop long-term familiarity. I checked out the Children's Pillage in the Village sale for musical instruments (especially non-electronic ones), a few simple wooden toys, and a couple of cloth books that she can flip through or mouth as much as she'd like. I also bought a laundry basket of crafting supplies and a bin of wooden puzzles from someone who was closing her home daycare.
The carpet in A-'s room has been fixed. W- is almost done with J-'s closet reno, which means we'll be able to move some of J-'s stuff out of A-'s room soon. I organized A-'s cold-weather clothes, and she's got plenty of things to wear. Everything's shaping up nicely.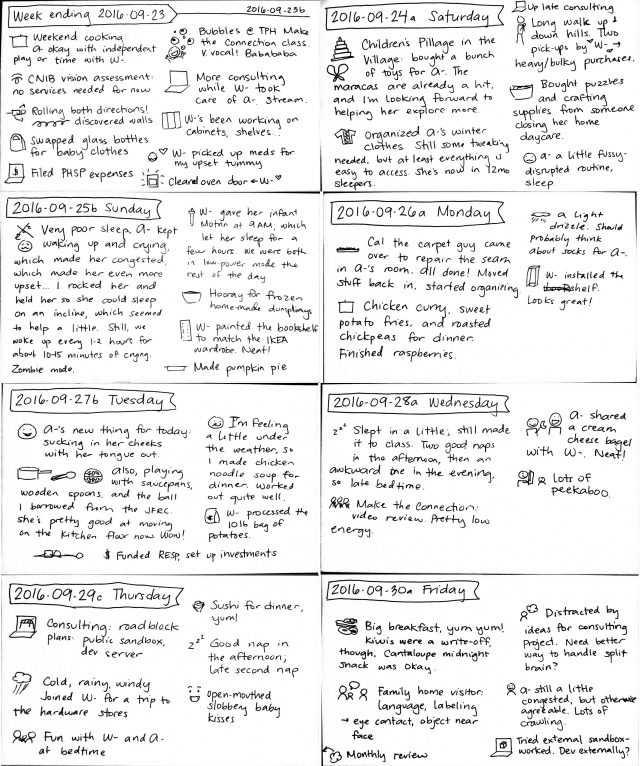 Blog posts
Sketches
Focus areas and time review
Business (3.3h – 1%)

Earn (3.2h – 98% of Business)

☐ Earn: E1: 1-2 days of consulting

Build (0.0h – 0% of Business)
Connect (0.0h – 1% of Business)

Relationships (4.4h – 2%)

☑ Check on RESP to see if it's been set up; transfer if so

Discretionary – Productive (5.4h – 3%)

Drawing (2.6h)
Emacs (0.4h)
Coding (0.0h)
Sewing (0.0h)
Writing (1.2h)

Discretionary – Play (0.0h – 0%)
Personal routines (15.3h – 9%)
Unpaid work (77.2h – 45%)

Childcare (71.0h – 42% of total)

Sleep (62.4h – 37% – average of 8.9 per day)
Oookay, 71 hours of childcare, although that's probably overstating it a little. Hmm. Actually, the numbers say it's a little less of almost everything else (except for family time, which actually increased), and a lot more childcare. Comparison:
| | | | | | |
| --- | --- | --- | --- | --- | --- |
| Category | Period 1 % | Period 2 % | Diff | h/wk | Diff h/wk |
| Business – Build | 0.4 | 0.0 | -0.4 | 0.0 | -0.7 |
| Discretionary – Play | 0.0 | 0.0 | 0.0 | 0.0 | 0.0 |
| Unpaid work | 39.6 | 46.0 | 6.3 | 77.2 | 10.6 |
| Unpaid work – Childcare | 33.8 | 42.3 | 8.5 | 71.0 | 14.3 |
| Discretionary – Social | 3.4 | 1.8 | -1.6 | 3.0 | -2.7 |
| Discretionary – Family | 0.6 | 0.8 | 0.2 | 1.4 | 0.4 |
| Sleep | 38.0 | 37.2 | -0.8 | 62.4 | -1.4 |
| Business – Connect | 0.6 | 0.0 | -0.6 | 0.0 | -1.0 |
| Business – Earn | 2.8 | 1.9 | -0.9 | 3.2 | -1.5 |
| Discretionary – Productive | 3.6 | 3.2 | -0.4 | 5.4 | -0.7 |
| Personal | 10.9 | 9.1 | -1.8 | 15.3 | -3.0 |
We had colds, so we stayed home instead of going to OEYC or other activities. Less walking time and social time. Lots of nursing and night-time soothing, too.
W-'s been focusing on the wardrobe and bookshelves, so his A- time is mostly when he takes breaks or wraps up for the night. Not as much consulting time as last week.
Hmm, might be personal routines/childcare blending. I've been tracking many of our meals as childcare (since I'm feeding her too) instead of personal care. Might start tracking some of that personal care time again, since I can usually focus on my meal (and even catch up with W-) for a good fifteen minutes or so.
I still feel okay about my time for drawing and consulting, even if I end up pushing them into the wee hours of the morning. I've gotten better at writing on my phone, although I still need computer time for reviews. I managed to squeeze in some reading this week, too. So it doesn't feel particularly crunch-time-ish, but I should keep an eye on that balance to make sure things stay okay. It's all good.