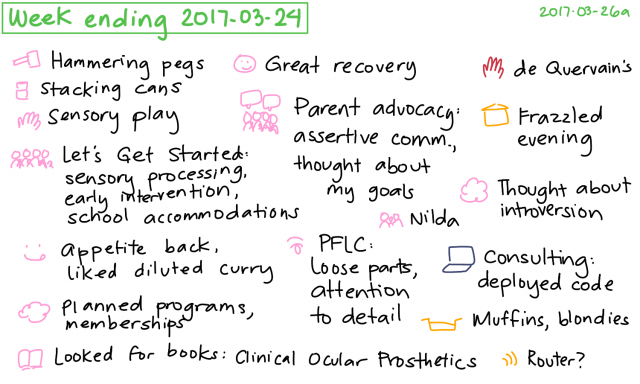 The last session of the Let's Get Started series focused on sensory processing disorders. Since no one was particularly concerned about that yet, we took the opportunity to ask questions about early detection and intervention, school accommodations, and parent advocacy. I feel reasonably good about the systems for education and public health here, but it's always good to know what we can do to make things better and what options we can explore. I'd like us to be able to make good decisions about A-'s growth, so in addition to learning how to work with the public school system, I'm also looking into homeschooling. Looking forward to helping A- get whatever she needs!
The parent advocacy workshop session focused on assertive communication. It got me thinking about what I want to learn from the workshop and how I want to approach the upcoming challenges and opportunities.
I took A- to the sensory play day at the Junction Family Resource Centre. She spent most of the time close to me, occasionally venturing forth to play with water, jelly, and cereal. She seems to be more reserved than the other babies, preferring to observe and to be a little apart from the crowd. I understand what that's like, and I'm totally okay with it. At home, she babbles happily while hammering pegs, stacking cans, and crawling around. Maybe it's familiarity, maybe it's the quiet… We'll figure out how to play to her strengths while mixing in exposure to new things. She's growing to be nicely resilient, too, recovering quickly from upsets or surprises.
I've been thinking about taking her on little field trips so that she can see things and learn words. She's been picking up new vocabulary pretty quickly, responding to words like "head", "knees", and "brush" with the appropriate gestures. I think it would be good to get into a weekly habit of going to places like the Riverdale Farm and the Royal Ontario Museum so that we can point to things and learn even more words. She's a bit young, but it's as good a time as any to start that routine. If I spring for the ROM membership that includes the ability to invite guests, it might even be an impetus to be more social.
Speaking of being social, we went to the Parenting and Family Literacy Centre. A- was a little sleepy and mostly clung to me. I chatted with some of the other folks there about gardening, food, and other shared interests.
Nilda visited us again this week, and she gave us tips for language development: labeling things in books and seeing if A- will point to them, repeating nursery songs and rhymes, and making animal sounds while showing the animal.
My de Quervain's was bad this week, so it was hard to type or draw. I used my discretionary time to bake muffins and blondies instead. I also managed to sew a quick wet bag, woohoo!
One of our weekday evenings was more frazzled than usual. I didn't even realize how tired and hungry I was until I flubbed the recipe I was trying to help with. Fortunately, W- rescued the cabbage rolls and it all worked out. I'm much more comfortable when the fridge is well stocked, so I'll spend the time on weekends to do so.
I still managed to do some consulting, though. I deployed some code for categories and prioritization, and people are already happily using it. Yay!
Blog posts
Sketches
Focus areas and time review
Business (0.9h – 0%)

Earn (0.9h – 90% of Business)

☐ Earn: E1: 1-2 hours of consulting

Build (0.1h – 9% of Business)

☑ Follow up on amended corporate tax return

Connect (0.0h – 0% of Business)

Relationships (0.0h – 0%)
Discretionary – Productive (2.4h – 1%)

Drawing (1.4h)
Emacs (0.5h)
Sewing (0.3h)
Writing (0.2h)

Discretionary – Play (1.7h – 1%)
Personal routines (16.3h – 9%)
Unpaid work (85.6h – 50%)

Childcare (74.8h – 44% of total)

Sleep (61.0h – 36% – average of 8.7 per day)