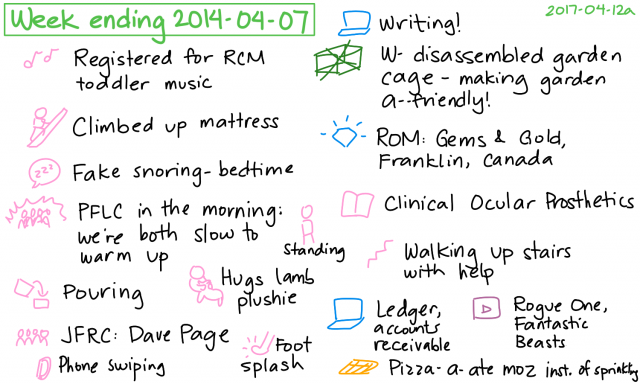 My copy of Clinical Ocular Prosthetics arrived. I made an index card of the chapter on practical living tips. It covers mostly the same ground as A Singular View, with the addition of some tips on cleaning the prosthesis and selecting glasses. The illustrations aren't as nice as the other book, though. I also read the chapter on psychosocial effects and checked out the pictures and profiles included in the book. Looks like it's a bit of a toss-up: some people can pass off as normal or embrace their situation with a sense of humour, and other people were badly affected by bullying and low self-esteem. I look forward to digging into the more technical chapters.
After some discussion with W-, I've signed up for the toddler music classes offered by the Royal Conservatory of Music. I hadn't been too keen on the other music classes advertised on posters around our neighbourhood, since I wasn't sure how much value they added beyond the circle times we often go to, playing with music at home, and singing. The RCM classes are part of ongoing research into the neuroscience of early childhood music education, though, so I'm more interested in that than in, say, a franchised program that might be mostly run out of a manual. Rhythm, enjoyment, and ear training seem to be among the things that benefit from early attention, so we'll give the classes a try.
A- woke up early on Wednesday, so we made it out to the PFLC in the morning. It was so busy, though, and she didn't relax enough to venture forth. I guess we're both a little slow to warm up. She felt more comfortable at the JFRC. We went to an early literacy workshop conducted by Dave Page. It was a small group – four babies – and she was the oldest baby there. She was totally fine crawling around, playing with toys, flipping through books, asking for more bubbles, and so on. We chatted about child development and I picked up a few new songs.
Neat language development of the week: A- fake-snores to signal that she's tired or when she's prompted by us talking about sleep or bedtime.
Lots of gross motor development, too. She's been working on standing independently, and can do so for a few seconds if you set her on her feet. She had lots of fun walking on grass, and she even climbed up an inclined mattress. She walked up the stairs with us holding her hands for support.
She likes splashing her feet in the sink and pouring water from one container to another. She leans in to hug her stuffed lamb or our cat. She likes sprinkling herbs and salt when we cook, but don't ask her to sprinkle cheese on pizza, because she'll eat it instead.
We went to the ROM and caught the Gems and Gold tour. We also checked out the gallery of Canadian history, which had a section on the Franklin expedition. Their collection of early Canadian furniture was interesting, too. There were a few people walking around while singing – members of a choir on a school field trip, maybe – so it was an unexpectedly wonderful experience.
W- started cleaning up the garden. He disassembled the cage we used to protect the tomatoes and strawberries from squirrels. First step towards making the garden more toddler-friendly!
Lots of posts on my blog, since I took the time to publish a few drafts I had on my phone. A bit of ledger updating too, and time for a few movies.
Blog posts
Sketches
Focus areas and time review
Business (3.2h – 1%)

Earn (2.5h – 79% of Business)

☑ Earn: E1: 1-2 hours of consulting

Build (0.6h – 20% of Business)

☑ [#A] Prepare invoice – State "DONE" from "TODO"

Connect (0.0h – 0% of Business)

Relationships (0.0h – 0%)
Discretionary – Productive (7.1h – 4%)

Drawing (2.6h)
Emacs (0.6h)
Writing (1.4h)

Discretionary – Play (0.8h – 0%)
Personal routines (16.0h – 9%)
Unpaid work (78.9h – 46%)

Childcare (70.1h – 41% of total)

Sleep (62.0h – 36% – average of 8.9 per day)