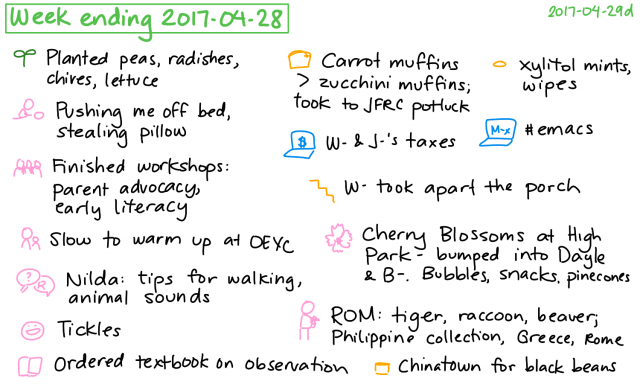 So far, only the radishes have germinated. That's okay, we're keeping our expectations low. A- and I have fun in the garden whether or not things are growing. There's always dirt to trowel and water to pour.
We finished the parent advocacy workshop and the early literacy workshop this week. The last session of the parent advocacy workshop was a scenario-based review of community resources, assertive communication, relationship building, and flexible thinking. A- and I were the only ones who attended the early literacy workshop, so we got to pick the specialist's brains for two hours. This time, I asked about how he has changed over the 25 years he's been working in the field, his experiences with the school system, and emerging research.
I got a few tips on encouraging A- to walk, talk, and make animal sounds from our family home visitor. She also recommended reaching out to Early Abilities for a possible speech concern, since they have a long waitlist. I'm not too worried yet. A- is great at letting us know what she wants through gestures, and she seems to be focusing on fine and gross motor skills at the moment. Still, early intervention is more effective than catching things late, so we'll look into it. She tends to be cautious, so that might play into it too.
A- does, however, warm up with repeated exposure. After a few days of me wiping my teeth with the xylitol wipes, she's now okay with having her teeth wiped by them too. I also experimented with a recipe for xylitol mints for me. They're a bit sweet, but they're not bad for a first try.
Also, speaking of letting me know what she wants, A- occasionally rolls me off the floor bed. She also sometimes signs for water and then takes advantage of the opportunity to dive for my pillow as soon as I turn to get her the water she asked for. Hilarious. We're having more fun with social games now: peek-a-boo, tickling, etc. When we went to High Park to see the cherry blossoms, we bumped into another family from the JFRC. A- enjoyed sharing snacks with them and imitating the 3-year-old as she tossed pinecones down the hill.
I made carrot muffins for the JFRC potluck, yay! I left midway to go to the ROM, where I pointed at various animals and named them. I checked out their Philippine collection, too, and the statues from Greece and Rome. We also went to Chinatown to stock up on salted black beans for W-'s favourite bitter melon dish.
Other things: I ordered a textbook on observation in early childhood education. Might be interesting. I prepared W- and J-'s taxes, and I hung out in #emacs helping people while putting together Emacs News. W- took apart the porch – construction season begins!
Blog posts
Sketches
Focus areas and time review
Business (2.2h – 1%)

Earn (1.0h – 44% of Business)

☑ Earn: E1: 1-2 hours of consulting

Build (1.2h – 55% of Business)
Connect (0.0h – 0% of Business)

Relationships (3.1h – 1%)
Discretionary – Productive (8.2h – 4%)

Drawing (2.2h)
Emacs (1.7h)

Discretionary – Play (6.9h – 4%)
Personal routines (23.3h – 13%)
Unpaid work (67.6h – 40%)

Childcare (54.8h – 32% of total)

Sleep (56.7h – 33% – average of 8.1 per day)