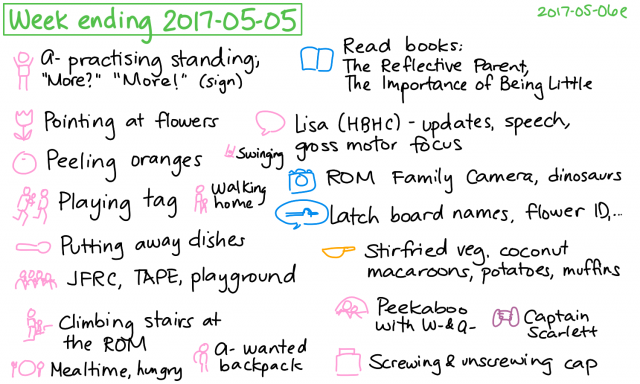 A- has been working on standing independently. When we're hanging out on her floor bed in preparation for bedtime, she often stands for a few seconds, grinning widely to much clapping and verbal reinforcement, then sits down. She does the "more" sign to ask me if I want more, to which I sign and say back: "More!" If I don't display her desired level of enthusiasm, she'll actually move my hands to do the "more" sign, just like I did when I was teaching her how to make the sign when she was around 6 months old. The things babies remember! (Another fruit from a long-ago seed: she joins me in hiding under a scarf.)
She's been really keen on walking around with help, even up and down stairs. We checked out the Toronto Association of Parent Educators' meetup in the Wallace Emerson Community Centre's gym, and A- liked just walking around and around in that big open space. She also wanted to play with a soccer ball and a tennis ball, since she'd been doing that at home. I took her to the ROM, too. The rotunda staircase has a shallow rise and a longer than normal run, so it was very nice to climb. She made it from the ground floor to the third level, then back down, then all the way back up again. She likes sliding down a slide with my assistance. As for fine motor control, she has mostly gotten the hang of unscrewing bottle caps, and she's interested in screwing them closed too.
We continue to work on animal sounds and other language abilities. No moos or meows yet, but she says "ba" to ask for bubbles, so that's a start.
So much progress in terms of cognition. She points at lots of things, including the flowers she noticed during one of our afternoon walks. She peeled a mandarin orange, biting the skin to create the first break and then peeling the rest off with her fingers. She put her dishes away in the dishwasher to signal that she was all done with the meal. She wanted to carry my backpack, put the electric toothbrush together, and chase and be chased (while being carried). She's learning how to respect mealtimes, or at least let us finish even if she's not hungry. She peeks under scarves when we're playing peekaboo, and she'll join us in hiding.
I've been learning a lot, too. We went to the ROM to check out the Family Camera exhibit, and I got to chat with one of the curators (turns out she's married to one of the OEYC facilitators). A- and I wandered around the dinosaur gallery, too, as I've been learning more about dinosaurs so that I can name the different models included in the toy collection. Likewise, I learned about latches because of the latch board we borrowed for A-. I had some time to stir-fry vegetables, bake coconut macaroons, and keep our carrot muffin pipeline flowing.
I read a few books about early childhood education, too. Quick notes:
Theories of Childhood: follow up on Erikson and Vygotsky
The Importance of Being Little: weaknesses of our current school systems
The Reflective Parent: mind-mindedness, reflective practice
Montessori Today: interesting details on the Great Stories, elementary education
I've been doing most of my reading on a phone, and I take screenshots of things I'd like to think about further. I'd like to improve my process for following up on those, though. I'll start by sketching quick index cards to summarize the key points before moving on to new books, so at least the notes are part of my Zettelkasten.
W- continues to work on the porch. Much to do and much to learn!
Blog posts
Sketches
Parenting
Cooking
Journal
Focus areas and time review
Business (2.5h – 1%)

Earn (2.3h – 91% of Business)

☐ Earn: E1: 1-2 hours of consulting

Connect (0.2h – 8% of Business)

Relationships (0.8h – 0%)
Discretionary – Productive (5.0h – 2%)

Drawing (3.7h)
Emacs (0.7h)
Sewing (0.3h)

Discretionary – Play (4.2h – 2%)
Personal routines (18.5h – 11%)
Unpaid work (76.7h – 45%)

Childcare (66.2h – 39% of total)

Sleep (60.2h – 35% – average of 8.6 per day)