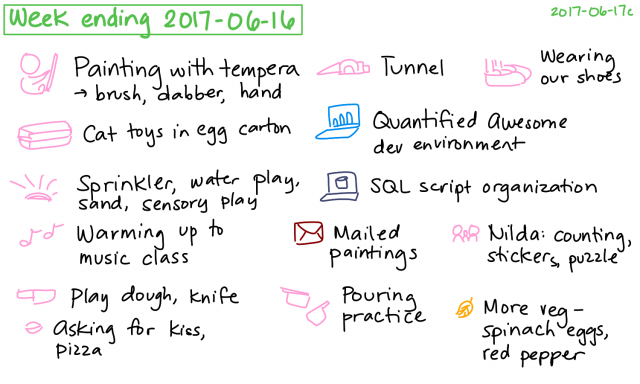 This week's warm and sunny weather prompted us to play with water outside. W- dangled A- over the sprinkler, and she stretched her legs out towards the spray. She also had fun pouring water from one measuring cup to the other. We went to the sensory play day at the JFRC, where she played with water, pasta, and Cheerios for a bit before wandering off to the main room for some more paper-dot scooping. She played with play dough for the first time, too, squishing it in her fist and even imitating how I cut it with a wooden knife. She played with sand at the OEYC as well, scooping it up and pouring it into the sand wheels.
She crawled through a small tunnel set up at the OEYC. She's getting more comfortable with exploring, yay! She warmed up enough in music class to shake the bells to various songs, walk around, and stand up or sit down at roughly the right places in "Ring around the roses". At home, she put the jingly cat toys in the egg carton and shook it, smiling widely, and she took turns giving it to J- and Y-. (But not me – I got "gaaah!" and a smile.)
We followed up on Nilda's suggestion to let A- try painting with a brush. A- took to that and to the paint dabber right away, dipping the brush in the tempera and swiping it across the paper. I mailed the first batch of her paintings to my parents and sister in the Philippines, so they can get in on the fridge-art action.
She's definitely keen to imitate us: ripping lettuce for salad, washing and drying spinach for pancakes, trying to wear our shoes, asking for a kiss by making smooching sounds.
I've been working on getting more vegetables into our daily routines. The sale on bell peppers got us into the habit of accompanying breakfast with sliced peppers. A- likes feeding us while occasionally snatching the food away, and that's encouraged her to try peppers from time to time too. I've been mixing spinach into scrambled eggs, snacking on silken tofu, and generally expanding our repertoire. Eating better little by little!
I dusted off the source code for Quantified Awesome. I've been working on getting a development environment up and running again, since coding can become casual fun if I have a safe place to try things out without worrying about messing up my main system. As for consulting, I've been working on improving the organization and maintainability of our data extract script, and that will probably pay off later on.
For next week, Nilda suggested focusing on counting, and letting A- practise fine motor skills with stickers and puzzles. I've got a dentist appointment on Friday, so we'll see how that goes too.
Blog posts
Sketches
Focus areas and time review
Business (7.0h – 4%)

Earn (0.9h – 12% of Business)
Build (6.1h – 87% of Business)

☑ Get tests to run again
☑ Figure out how to run the system
☑ Deal with package changes
☑ Don't log ActionController::RoutingError
☑ bundle update

Relationships (0.4h – 0%)
Discretionary – Productive (6.7h – 4%)

Drawing (4.3h)
Emacs (0.9h)
Writing (0.3h)

Discretionary – Play (2.8h – 1%)
Personal routines (21.7h – 12%)
Unpaid work (77.3h – 45%)

Childcare (67.8h – 40% of total)

Sleep (52.1h – 31% – average of 7.4 per day)