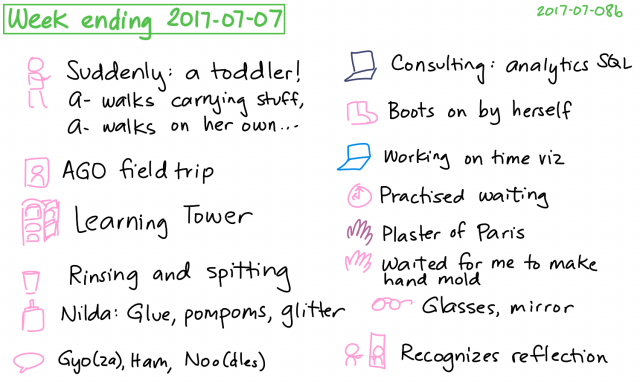 What a week! All of a sudden, we have a toddler: one who walks a little unsteadily, but with great enthusiasm. W- discovered that you can nudge A- to walk on her own if you give her something to carry and ask her to take it to someone. After a few trips back and forth, A- got the hang of it. She still cruises from time to time, and she prefers to walk holding our hands, but she'll also toddle towards the sprinkler or across the deck. Whee! She also managed to put her shoes on by herself, and practised putting on her glasses in front of a mirror. (Which she can recognize herself in, yay!)
We got a second-hand Learning Tower, and A- has been making great use of it in the kitchen. She imitates the way we wash dishes, scramble eggs, and cut (she has playdough and her knife). New words: Gyo(za), ham, noo(dles). Also exciting: A- has been working on rinsing and spitting, which is an important precursor to being able to use fluoride toothpaste!
Nilda brought glue, pompoms, and glitter. A- particularly enjoyed shaking glitter all over the glue-covered piece of paper. I followed up on Nilda's suggestion of plaster of Paris, and we've been making casts of A-'s hand print. A- got to the point of waiting for me to press her hand into the playdough to make the hand mold. Our field trip to AGO was practically a footnote to such an eventful week.
We've been working on helping her practise waiting, too. Sometimes it's easy to keep her occupied with songs and sometimes she's harder to settle, but that's normal.
On my side: analytics SQL, some time visualization, nd lots of revving up of my early childhood education research. A-'s learning tons, and I remember there were quite a few resources I came across early on that looked like they would be more useful around this age. So much to learn for all of us! =)
Blog posts
Sketches
Focus areas and time review
Business (8.6h – 5%)

Earn (3.8h – 43% of Business)
Build (4.9h – 56% of Business)

☑ Prepare invoice
☑ Batch edit for categories
☑ Check infinite loops for get_color

Connect (0.0h – 0% of Business)

Relationships (0.5h – 0%)
Discretionary – Productive (8.1h – 4%)

Drawing (3.8h)
Emacs (0.4h)

☑ Set up Cron
☑ Try out planetplanet
☑ Figure out how to blacklist
☑ Fix unicode

Coding (0.5h)
Writing (1.1h)

Discretionary – Play (0.9h – 0%)
Personal routines (13.9h – 8%)
Unpaid work (10.8h – 6%)
A- (Childcare) (72.1h – 42% of total)
Sleep (52.9h – 31% – average of 7.6 per day)