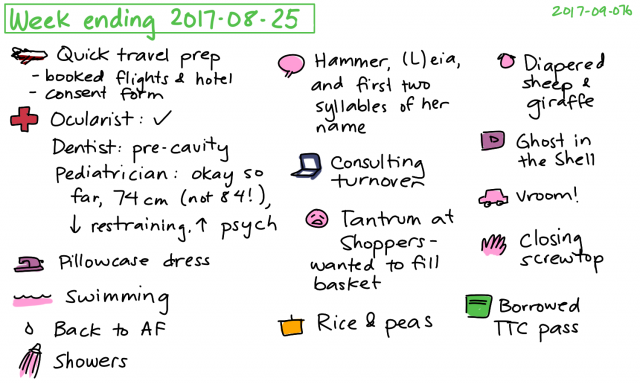 My dad's health took a turn for the worse, so we decided that it was a good idea to visit earlier rather than later. I scrambled to book a flight – just me and A-, so we could stay longer than W- could get off from work. The ocularist and the pediatrician both let me move our medical appointments earlier. I ended up rebooking A-'s ticket because it turned out that she still fits into Korean Air's bassinet, which saved me some money even after the change fee. I also took A- to the dentist for a quick check on her enamel hypoplasia (now pre-cavity, but oh well) because we wanted to make sure her recent fussiness was just regular toddlerhood and not a sign that she was in pain. I notified Toronto Public Health that I'd be missing the first two weeks of the parenting workshop I'd registered for, and I moved our meeting with the Healthy Babies Healthy Children nurse. I bought some clothes at Value Village, and I got a pillowcase that I turned into a dress for A-. W- prepared a travel consent form and got it notarized, just in case. I also dealt with some bad timing, but that's just life. With all that out of the way, we were ready to go.
A- has been exercising her independence. She had a tantrum at Shoppers Drug Mart because she wanted to keep filling our shopping basket and I needed to get going. She started resisting baths, too. W- suggested showers, and that worked brilliantly. Maybe she decided showers were the way to go after having had a few showers at the pool.
She's been picking up lots of new words and actions, too. She said "Hamma" (hammer) while listening to W- work on the porch. She can refer to one of our cats by name, and she refers to herself using the first two syllables of her name. W- noticed A- pushing a luggage lock around on the floor, so he brought over the big box of Duplo cars and we all had a blast vroom-vrooming cars around. Sheep and Giraffe now regularly sport diapers and sometimes even underwear. A- figured out how to close screwtop containers, too.
Other things:
W- made rice and peas from scratch instead of using the mix from a jar, and it was a revelation: subtly creamy and oh so yummy.
We got to watch Ghost in the Shell, too, which was surprisingly okay at 1.5x speed.
I turned over my consulting work in preparation for being away for almost a month. Let's see if this works out!
A busy week of preparation!
Sketches
Focus areas and time review
Business (3.1h – 1%)

Earn (3.1h – 100% of Business)

Relationships (2.5h – 1%)
Discretionary – Productive (4.3h – 2%)

Drawing (2.0h)
Emacs (0.6h)
Coding (0.8h)
Sewing (1.0h)

Discretionary – Play (1.0h – 0%)
Personal routines (20.7h – 12%)
Unpaid work (16.7h – 9%)
A- (Childcare) (73.6h – 43% of total)
Sleep (46.1h – 27% – average of 6.6 per day)