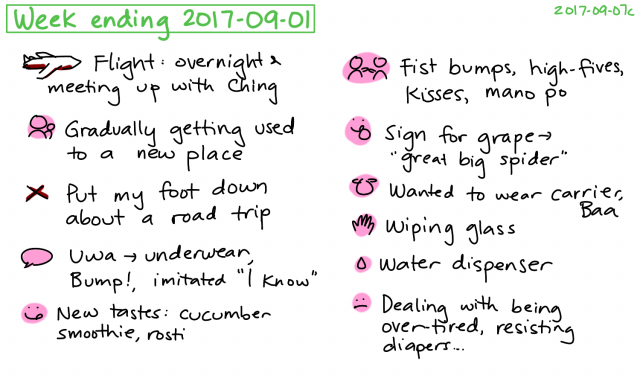 My dad's in poor health, so A- and I flew to the Philippines on short notice in order to spend time with the family. I don't expect to be much help as I'm still mostly focused on childcare, but I figure they might enjoy a glimpse of everyday life with A-, and it's generally a good idea to be together during tough times.
W- is still at home, so we make sure to collect stories and photos to share with him. This is the longest we'll be away from him in all of A-'s life. Come to think of it, it might be the longest I've been away from him since we got together.
The last time we flew from Toronto to Manila by way of Seoul, we liked Korean Air but were still almost asleep on our feet because of the sheer length of the flights. A- got way overtired, which made all of us pretty miserable. Since I was flying by myself this time around, I experimented with a flight itinerary that included a 16-hour layover in Incheon, choosing the airport transit hotel for extra risk mitigation. My eldest sister arranged her flight from California so that she could join me in Incheon and on the flight to Manila. The overnight stay and the extra pair of hands were really helpful, and we managed to make it to Manila without too much stress despite the occasional tantrum.
A- took a while to settle in. For the first few days, she often wanted to stay in the carrier. I was beginning to worry about making sure she still got gross motor development time. She made tons of progress in terms of fine motor skills, language, and social interaction, though: fist-bumps, high-fives, kisses, mano, and new words like "bump!" and "uwa" (for underwear). Lots of pretend play, too. She wanted to use the baby carrier to carry her stuffed sheep, so I'll see if I can make her a carrier when we get home.
A- readily tried all sorts of new tastes, and we figured out our snacking options over here: cheese, grapes (for which she invented her own sign, since she liked them so much), sandwiches, and energy bars when we're out and about. She learned how to work the water dispenser, too.
My family wanted to go on a long road trip, but I was really uncomfortable with the idea, so I put my foot down even if they got upset with me. Things settled down after a day or two, though. Whew!
A-'s more comfortable in the house now. She likes playing with her cousins, aunt, and grandparents, and they're fascinated with her too. I've been able to help a little with the paperwork and get more information about my dad's health and priorities. Over the next few weeks, I'd like to keep these priorities in mind: A- and me, Kathy and the kids, and my parents, with paperwork being a much lower priority. Still, if I can help organize information while A- learns more about hanging out, that works too.
Blog posts
I've been caught up in family matters and haven't been able to write, but I look forward to reestablishing routines at least for my journal and for Emacs News.
Sketches
Focus areas and time review
Business (0.6h – 0%)

Earn (0.6h – 100% of Business)

Relationships (0.6h – 0%)
Discretionary – Productive (1.7h – 1%)

Drawing (1.5h)
Coding (0.2h)

Personal routines (7.0h – 4%)
Unpaid work (14.5h – 8%)
A- (Childcare) (67.7h – 40% of total)
Sleep (30.1h – 17% – average of 4.3 per day) – this week's numbers are messed up because of travel, since I couldn't log well on the flight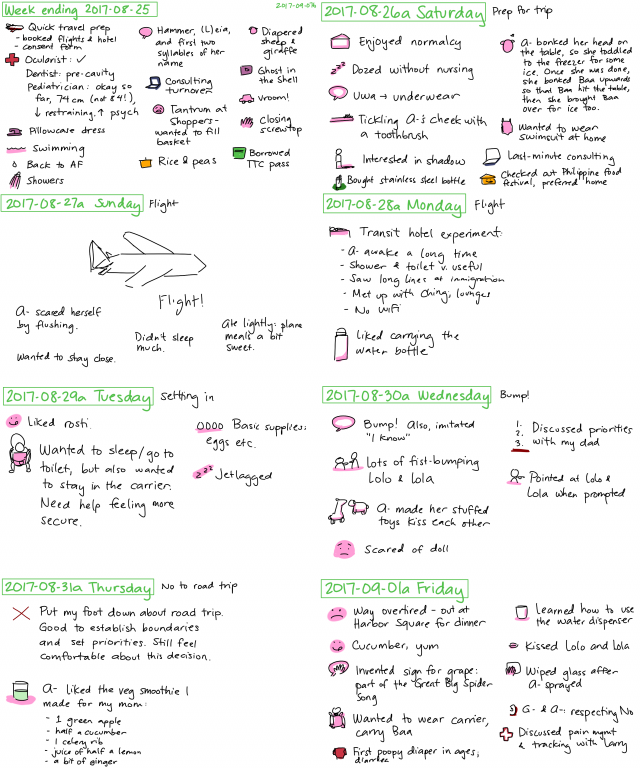 You can comment with Disqus or you can e-mail me at sacha@sachachua.com.