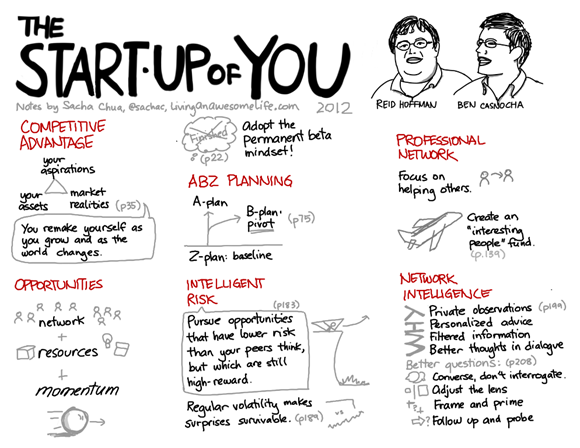 (Click image for a larger version)
The Start-up of You is a book about networking and career planning using tips pulled from the startup world, sprinkled with hip jargon such as "pivot" and "volatility." It's a decent book for people who are new to connecting or cultivating their network and who also like reading about technology and entrepreneurship. If you're a fan of The Lean Startup and similar entrepreneurship books, The Start-up of You is like seeing those ideas applied to other parts of life. It's easy to read, and it flows well.
I liked examples such as the "interesting people fund" and the idea of having A-B-Z plans. There are good tips for asking your network better questions (p208), too. If you've read a lot of other networking or career growth books, though, you might not come across many new aha! moments here, but it's a good startup-influenced view at managing your own career.
The Start-up of You
Reid Hoffman, Ben Casnocha
2012: Crown Business
ISBN: 978-0307888907
(E-book and audiobook also available. The Toronto Public Library carries this book.)
Are you a visual learner? Check out my other sketchnotes and visual book notes!
Event organizer or conference organizer? I'd love to help you help your attendees remember and share key points. Talk to me about sketchnoting your next event!
View or add comments