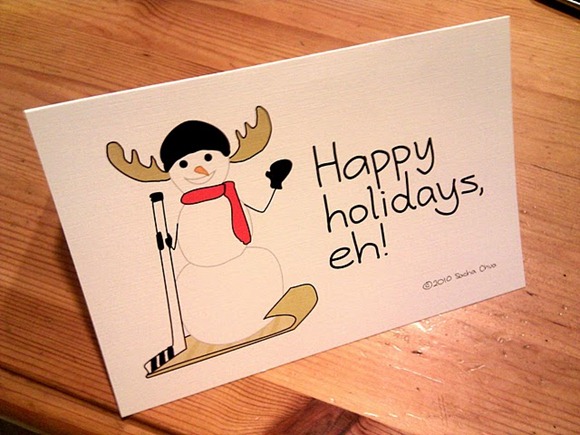 Skip my VistaPrint review and go straight to the giveaway
Last week, I thought: hey, what would a Canadian Christmas card look like? After a few quick sketches, I ordered a set of thirty cards from Vistaprint. It was an inexpensive experiment that complemented our ongoing project to be more social. Even if they arrived late, I could always use them for holiday cards next year. Who knows, the experiment might even help me get into making geeky greeting cards and other things.
After a bit of coupon maximization, the 30-card set was CAD 24.47 (with the picture upload and linen upgrade),  shipping cost CAD 11.62, and HST was CAD 4.69, for a total of CAD 40.78. This worked out to CAD 1.36 per card (including shipping) and an incremental card cost of CAD 0.82.
The box arrived this Saturday, even though I chose the lowest-cost shipping method. Yay! Early Christmas indeed.
The print quality is great. The red scarf is vivid. The lines are crisp and clear. The image is centered, too. Next time, I'll remember to remove the border line before uploading. The linen is a bit lighter-weight than most cardstock I use, but it isn't floppy, and the pre-creased paper is easy to fold.
VistaPrint includes a small ad on the back of the card: Exclusively from Vistaprint, www.vistaprint.ca. I think you can pay extra to replace the back with your own design, which presumably includes a blank page.
The free photo Christmas cards I ordered weren't as awesome, but that could be a combination of low-resolution photo files and me being fascinated by the novelty of seeing my drawings printed in full-colour.
Would I order future designs of greeting cards from Vistaprint? We don't have a colour printer, so I'm happy to order from them if I have a design that needs colour. Alternatively,  I might look into getting an inkjet printer, or trying local print shops. I want to experiment with printing black-and-white designs onto cardstock with our laser printer first, though, because black-and-write drawings can be quite expressive as well. (And I can always break out the crayons!)
I can't wait to send these out. I'm resisting the temptation to redo some of the other cards in my outbox, and to send seconds to people I've already sent cards to. Although I'm going to send second cards to my family, so that they can show it off to others. ;) Whee!
GIVEAWAY
In fact, let's share the wealth. I'll give away five cards so you can use them to send to your other friends. Leave a comment on this post suggesting other geeky greeting cards you'd love to see. I'll pick a random commenter by next Friday (December 17), get the mailing address through e-mail, and send the cards by express mail. No guarantees on when you might get it, but I hope it'll be in time to send this year! =)