Last week, I focused on building a daily drawing habit. Working well!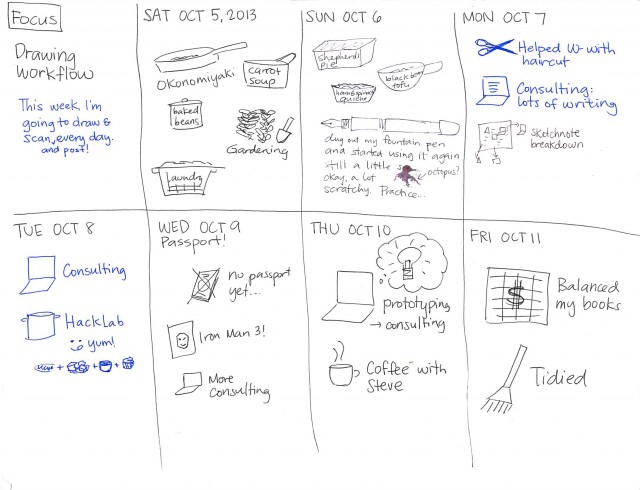 Blog posts
Quick notes
Last weekend cooking: Saturday – carrot soup; Sunday – shepherd's pie, black bean tofu, quiche
The trick to non-overflowing quiche: cook your solid ingredients, then mix the eggs and cream depending on the volume you have left
This weekend: vegetable stew, pumpkin pie, egg tarts
See sketches.sachachua.com for recent public sketches. Eventually I'll fold them into the weekly review process as well…
Link round-up
Focus areas and time review
This week, I'm going to focus on tidying. I want to clear more space in the house and organize things better so that I can more efficiently store and find things.
Business (46.9h – 27%)

Earn (22.1h – 47% of Business)

[X] Earn: Consulting – E1 – Monday half-day
[X] Earn: Consulting – E1 – Thursday
[X] Earn: Consulting – E1 – Tuesday
[X] Earn: Consulting – E1 – Wednesday half-day
[ ] Earn: Consulting – E1 – Thursday
[ ] Earn: Consulting – E1 – Tuesday
[ ] Earn: Consulting – E1 – Wednesday half-day

Build (20.5h – 43% of Business)

Quantified Awesome (0.0h)

[ ] Fix token authentication and quantified.el – Vedat

Drawing (13.6h)

[X] Break ten sketchnotes down into components and file them
[ ] Break another ten sketchnotes down into components and file them

Paperwork (6.2h)

[ ] Pick up paper T2 from Enterprise Toronto in City Hall

Connect (4.3h – 9% of Business)

Relationships (5.6h – 3%)

[ ] Celebrate Thanksgiving with W-'s family
[ ] Check on passport
[ ] Talk to Young Urban Farmers regarding garden

Discretionary – Productive (6.8h – 4%)

[X] Bring my ledger up to date with regard to equities
[ ] Rescan black sketchbook
Writing (3.2h)

Discretionary – Play (9.8h – 5%)
Personal routines (20.2h – 12%)
Unpaid work (17.2h – 10%)
Sleep (62.5h – 37% – average of 8.9 per day)