This week was about trying to get the hang of shopping. I find shopping to be a frustrating process, but I think that's something I can tweak about myself. We were scrambling to get everything in order for a formal-ish dinner at a banquet hall with extended family. My office attire (slacks, a blazer, and a dress shirt) worked fine, but the exercise prompted me to think about my wardrobe and choosing clothes more deliberately.
My work laptop crashed, so that took a bite out of my productivity. I'll check next week to see if they've gotten it sorted out. I used a loaner laptop to get a few more things done, but it would be good to set everything up properly again.
This coming week: hosting an Emacs Hangout, baking for the Repair Cafe to be held at Hacklab, attending a Sketchnote Hangout, and going to a networking event. Lots of talking to people, so I'll try to have lots of quiet time as well.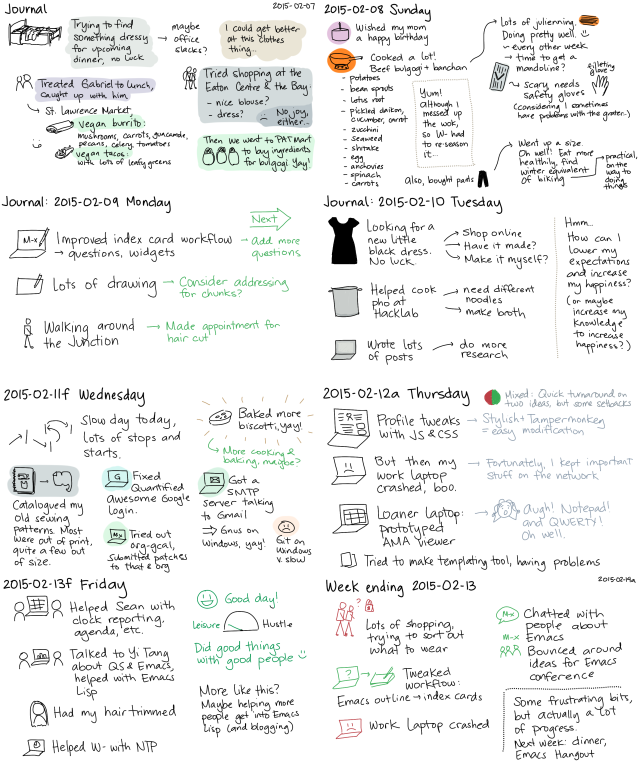 Blog posts
Sketches
Link round-up
Focus areas and time review
Business (33.2h – 19%)

Earn (10.7h – 32% of Business)

☐

Earn: E1: 1-2 days of consulting

Build (18.7h – 56% of Business)

Drawing (12.9h)
Delegation (0.1h)
Packaging (0.2h)
Paperwork (0.8h)

Connect (3.8h – 11% of Business)

☑

Revisit Google login thing

☑

Quantified Awesome: Fix Google login again

Relationships (6.6h – 3%)

☑

Have lunch with Gabriel

☑

Call my mom and wish her happy birthday

☑

Check on @mattl's upcoming visit to Toronto

☑

Book haircut

☑

Try online shopping

☑

Help W- with ntp

Discretionary – Productive (23.7h – 14%)

Emacs (15.0h – 8% of all)

☑

Figure out a neat way to backdate Org clock entries consistently

☑

Fix Emacs init errors

☑

Refine Emacs code for working with questions

☑

Explore Hydra

☑

Make something that automatically cross-references sketches with blog posts

☑

Make dired action for processing marked files

☑

Create Emacs conference thing

☑

Help Sean with Emacs

☑

Chat with Yi about Emacs

☑

Set up my Vagrant to send mail through Gmail

☑

Try to get Gnus to send mail again on Windows

☑

Try out org-gcal

☑

Review Zettelkasten research

☑

Scan my sewing pattern catalog

☑

Consider pants

☑

Upload to Gumroad

☐

Read chapter 3 of Intermediate Japanese

☐

Make cover for Createspace

☐

Upload to Createspace

☐

Start git directory for drafts
Writing (5.9h)

Discretionary – Play (7.1h – 4%)
Personal routines (21.0h – 12%)
Unpaid work (20.6h – 12%)
Sleep (55.8h – 33% – average of 8.0 per day)
You can comment with Disqus or you can e-mail me at sacha@sachachua.com.