This week was about sewing. I made three tops, wow! I might go to the fabric store on Tuesday to see if there are other fabrics that I'd like to turn into tops using the same pattern.
Also, I made lemon meringue for the first time in ages. I tried another biscotti recipe, too.
My Samsung Galaxy S3 started power-cycling, so I replaced it with a Moto G. The Moto G is working surprisingly well. I thought I'd have problems with the small, non-expandable storage, but it works just fine. =)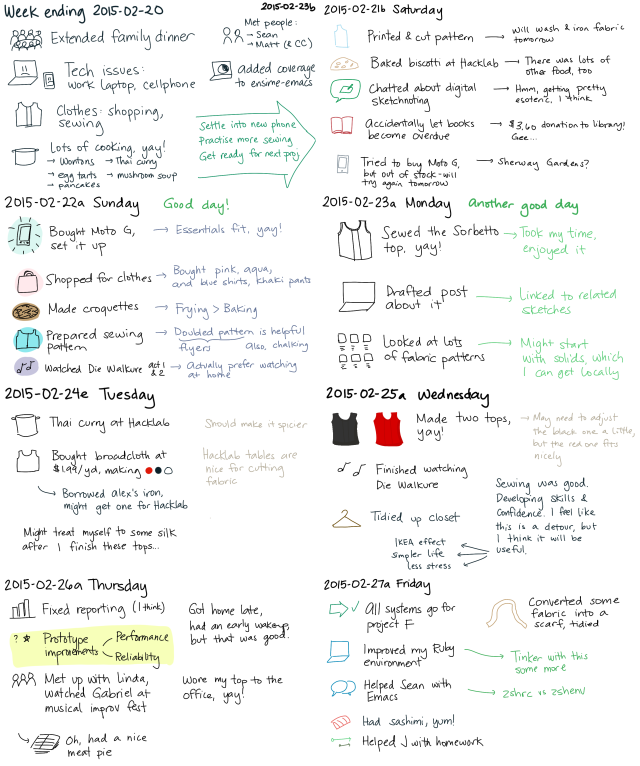 Blog posts
Sketches
Link round-up
Focus areas and time review
Business (26.5h – 15%)

Earn (10.7h – 40% of Business)

☑

Earn: E1: 1-2 days of consulting

☐

Prepare invoice

Build (3.5h – 13% of Business)

Drawing (1.4h)
Delegation (0.0h)
Packaging (0.0h)
Paperwork (0.8h)

☑

Figure out why library isn't renewing

☑

Fix color detection

Connect (12.3h – 46% of Business)

Relationships (12.5h – 7%)

☑

Help Sean with Emacs

☑

Print tickets

☑

Hang out with Linda and watch Gabriel perform

Discretionary – Productive (24.1h – 14%)

Emacs (1.6h – 0% of all)

☑

Help Sean with Ruby environment

☑

Choose additional fabrics for Sorbetto top

☑

Get 1.5 yards of cotton shirting

Sewing

☑

Print out Colette pattern

Phone

☑

Figure out what's going on with my phone

☑

Set up new phone

☑

Buy Moto G from Staples

☑

Upgrade to Lollipop

☑

Attend Sketchnote Hangout

☑

Read synopsis for Die Walkure

☐

Read chapter 4 of Intermediate Japanese

☐

Review Createspace

☐

Investigate Powershell
Writing (2.1h)

Discretionary – Play (9.0h – 5%)
Personal routines (21.6h – 12%)
Unpaid work (16.3h – 9%)
Sleep (58.1h – 34% – average of 8.3 per day)
You can comment with Disqus or you can e-mail me at sacha@sachachua.com.