This was a good week, rich in people: lots of family things, and wonderful conversations. I'm getting better at seeing and responding to things the way I choose to, and it makes life's surprises better.
Next week: I'd like to build a yoga habit, and I'd like to get even better at reaching out.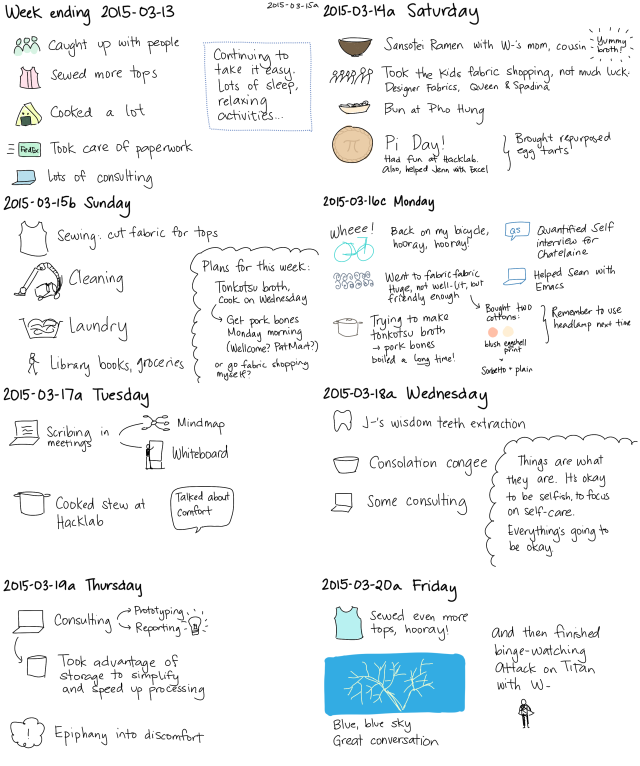 Blog posts
Sketches
Link round-up
Focus areas and time review
Business (25.2h – 14%)

Earn (16.1h – 63% of Business)

☑

Attend comm session

☐

Earn: E1: 1-2 days of consulting

Build (2.5h – 9% of Business)
Connect (6.6h – 26% of Business)

Relationships (19.3h – 11%)

☑

Check on project F4

☐

Hang out with Ewan and Eric on Friday

☐

Drop gift off at Michael and Jen's

Discretionary – Productive (20.4h – 12%)

Emacs (4.2h – 2% of all)

☑

2015-02-18 Emacs Hangout

☑

Help Sean with Emacs

☐

Hang out with Emacs geeks

☑

Research yoga places
Writing (2.8h)

Discretionary – Play (5.4h – 3%)
Personal routines (22.0h – 13%)
Unpaid work (15.6h – 9%)
Sleep (60.2h – 35% – average of 8.6 per day)
You can comment with Disqus or you can e-mail me at sacha@sachachua.com.