It was a good week for small steps. I've been settling into a new daily routine: a little bit of code, a book, some thinking… In terms of code, I've been focusing on adding D3 visualizations and other smarts to my Angular+Node tracker. I've been reading about thinking and memory, and thinking about what I can build or practice in order to get better at those things. Overall, though, I continue to be taking it easy – letting go of more of my previous commitments, clearing the way for other experiments.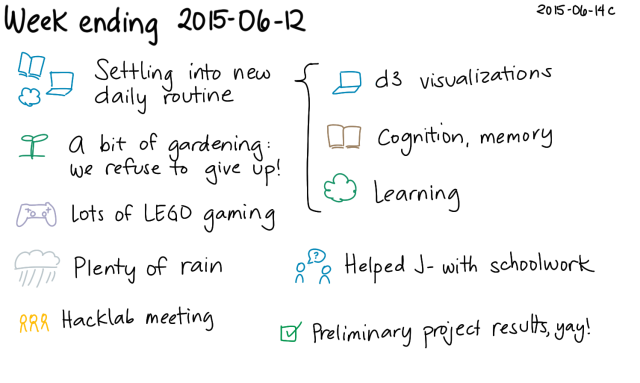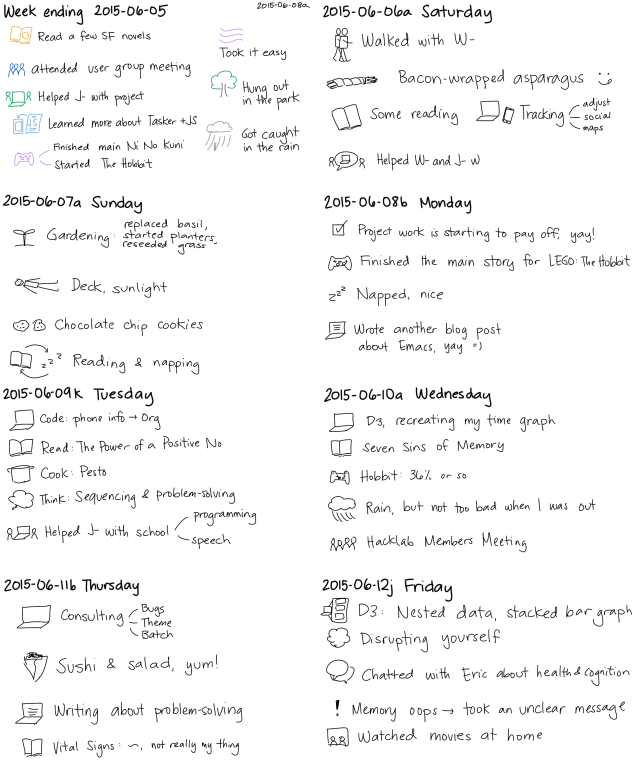 Blog posts
Sketches
Journal
Learning / sequencing
Fuzziness
Index cards
Philosophy
Link round-up
5 reasons not to use your virtual assistant: the Amy scheduling AI looks interesting. It would be neat to check that out when it's more open. Interesting approach (probably hybrid person+AI) and conversational interface. I wonder what I can build and use along those lines…
Focus areas and time review
Business (23.0h – 13%)

Earn (6.0h – 25% of Business)

☑

Earn: E1: 1-2 days of consulting

☐

Earn: E1: 1-2 days of consulting

Build (14.2h – 61% of Business)

Drawing (9.4h)
Paperwork (0.0h)

Connect (2.8h – 12% of Business)

Relationships (10.6h – 6%)
Discretionary – Productive (11.6h – 6%)

Emacs (0.7h – 0% of all)

☑

Reschedule Emacs Lisp Development Tips episode with jwiegley

☐

Announce Emacs Hangout 2015-06-17

☐

Host Emacs Hangout

Writing (4.5h)

☑

Get travis working again for quantified awesome

☐

Call with new totals

Discretionary – Play (20.9h – 12%)
Personal routines (28.3h – 16%)
Unpaid work (14.5h – 8%)
Sleep (59.2h – 35% – average of 8.5 per day)
You can comment with Disqus or you can e-mail me at sacha@sachachua.com.