I finally got my grocery visualizations sorted out enough for me to explore the data. =) Nice to be able to see the patterns. Lots of sleep, a bit of code…
Also, W- bought the early games in the Persona series during the Playstation Network sale, so we've been powering our way through Persona 1.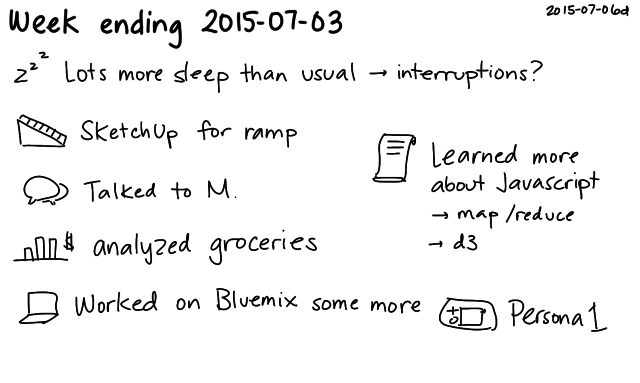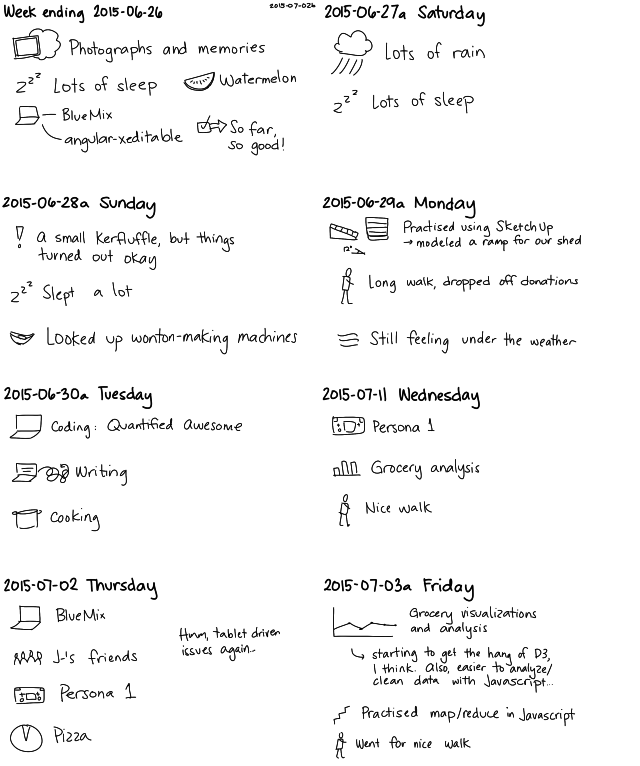 Blog posts
Sketches
Focus areas and time review
Business (25.1h – 14%)

Earn (10.6h – 42% of Business)

☑

Earn: E1: 1-2 days of consulting

☑

Bluemix: Unify requests

Build (14.4h – 57% of Business)

Drawing (2.4h)
Paperwork (0.2h)

Connect (0.0h – 0% of Business)

Relationships (1.3h – 0%)
Discretionary – Productive (6.6h – 3%)

Emacs (0.0h – 0% of all)

☑

Get data input working again
Writing (2.2h)

Discretionary – Play (21.2h – 12%)
Personal routines (31.1h – 18%)
Unpaid work (7.8h – 4%)
Sleep (74.9h – 44% – average of 10.7 per day)
You can comment with Disqus or you can e-mail me at sacha@sachachua.com.