My tiny corporation's fiscal year ended this week. I did a dry run of corporate tax preparation so that there won't be any surprises when I file. Reconciled bank statements, corrected transactions, compensated for the exchange rate, followed up on stuff… Looks like it's all ready to go once the final statements come in.
In terms of sewing, this week I focused on learning more about patterns. I used tmtp to write Python scripts that drafted basic shirt patterns, but I still need to sew muslins to test whether the patterns make sense. (Some of the pieces look a little weird…) It's been a slow week because things still feel pretty theoretical, but maybe I'll spend next week knocking out a few small sewing projects so I have more of that feeling of accomplishment.
Also, I got to chat with cool people about Emacs and life. =) Thanks to Bill Z. for reaching out!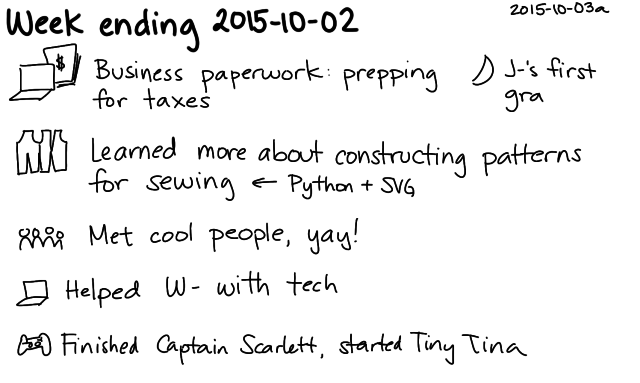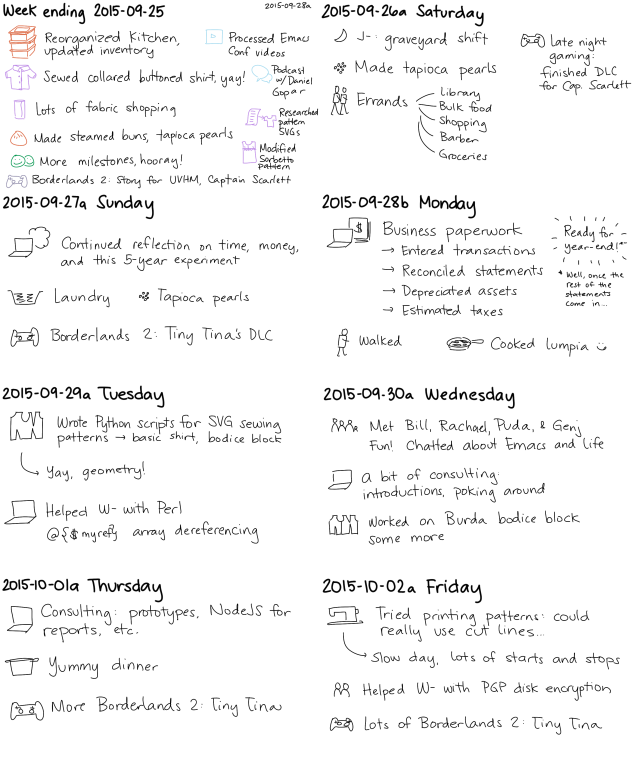 Blog posts
Sketches
Focus areas and time review
Business (16.2h – 9%)

Earn (11.7h – 71% of Business)

☑

File September invoice

☑

Earn: E1: 1-2 days of consulting

☐

Earn: E1: 1-2 days of consulting

Build (4.6h – 28% of Business)

Drawing (0.1h)
Paperwork (4.4h)

☑

Enter transactions into Quickbooks

☑

Doublecheck tax installments

☑

Do Paypal USD conversion

☑

Credit back personal amount for telephone expenses

☑

Sort out GST/HST Payable account

☑

Fix depreciation

Connect (0.0h – 0% of Business)

Relationships (5.7h – 3%)
Discretionary – Productive (21.6h – 12%)

Emacs (0.0h – 0% of all)

☑

Renew livinganawesomelife.com
Sewing (17.1h)
Writing (4.6h)

☑

Try creating a Python pattern

☑

Pattern-making: Generating SVGs for sewing with Python and tmtp

Discretionary – Play (15.3h – 9%)
Personal routines (30.5h – 18%)
Unpaid work (15.2h – 9%)
Sleep (63.4h – 37% – average of 9.1 per day)