Lots of fun with the prototype I've been making on my consulting gig, yay! I've been learning more about mobile interfaces with Angular modules like ng-touch, and I might play around with Cordova as well. I missed a meeting because I forgot to check my Outlook calendar before heading out, but ah well.
I figured out how to reflect my HST refund in Quickbooks, and I updated my accounting notes. That should make next year's paperwork a little bit easier.
Lots of cooking (yum, lasagna!), and a bit of sewing as well. I'm experimenting with ordering fabric from fabric.com, so we'll see how that goes.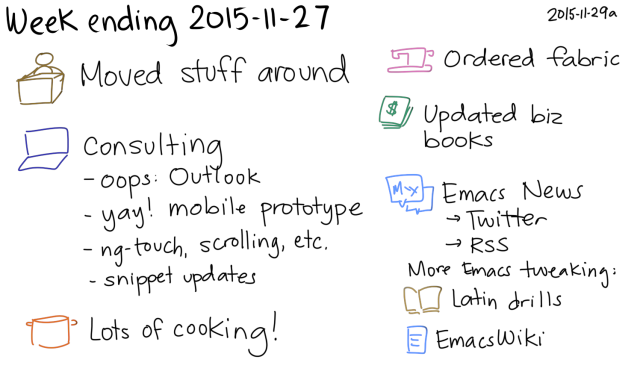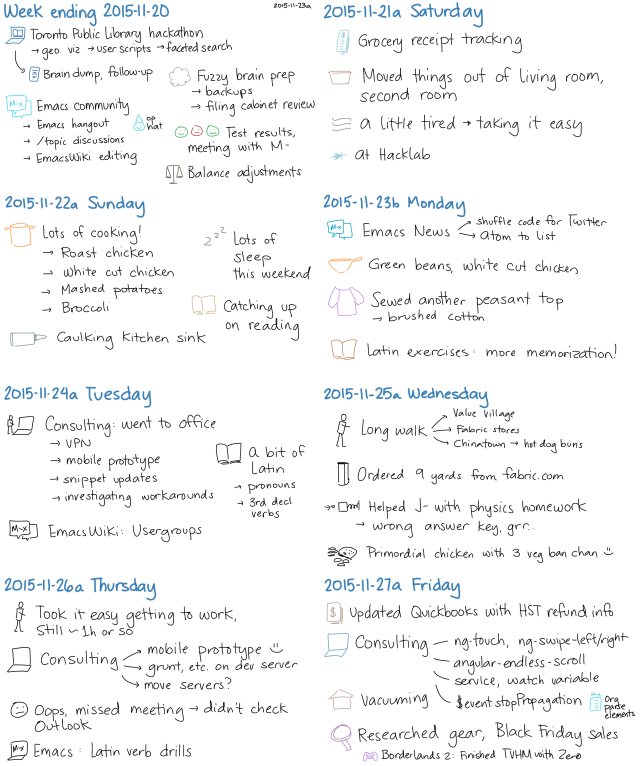 Blog posts
Sketches
Focus areas and time review
Business (23.7h – 14%)

Earn (20.2h – 85% of Business)

☑ [#A] Move to B
☑ Earn: E1: 1-2 days of consulting
☐ Earn: E1: 1-2 days of consulting
☐ Prepare invoice

Build (2.4h – 10% of Business)

Drawing (1.5h)
Paperwork (1.0h)

☑ Update corporate tax installments

Connect (1.0h – 4% of Business)

Relationships (7.4h – 4%)

☑ Research gear
☑ Buy stuff

Discretionary – Productive (17.6h – 10%)

Emacs (6.8h – 4% of all)

☑ Improve EmacsWiki

☑ Update information on customizing initfile

☑ Investigate org toc local section
☑ Do another Emacs News review
☐ Do another Emacs News review

☑ Sew another peasant blouse
☑ Catalogue installed programs and clean them up
☑ Sort out backup system for blog
Sewing (2.6h)
Writing (0.0h)

Discretionary – Play (11.8h – 7%)
Personal routines (27.8h – 16%)
Unpaid work (14.7h – 8%)
Sleep (64.9h – 38% – average of 9.3 per day)
You can comment with Disqus or you can e-mail me at sacha@sachachua.com.