After experimenting with Krita to see if it could handle my simple sketchnoting needs, I shifted to dual-booting Linux last weekend instead of being only on Windows. It's been fun so far! I've been able to move most of my workflows over, although I think I'll still keep my Windows partition for things like Quickbooks and TurboTax. (Until I get up the confidence to do my corporate taxes by hand, maybe.) I've slowly been accumulating little scripts to make my life easier, and I should post them on Github at some point. It's so nice to be able to script things properly again!
I've also been playing around with more detailed task lists. Recognition is easier than recall, so having a more fleshed-out task list makes sense especially during fuzzy-brained times. Over the next few weeks, I'll probably figure out a good way to make sense of these granular tasks during my weekly and monthly reviews. We'll see!
It's been an excellent week for geeking around. =)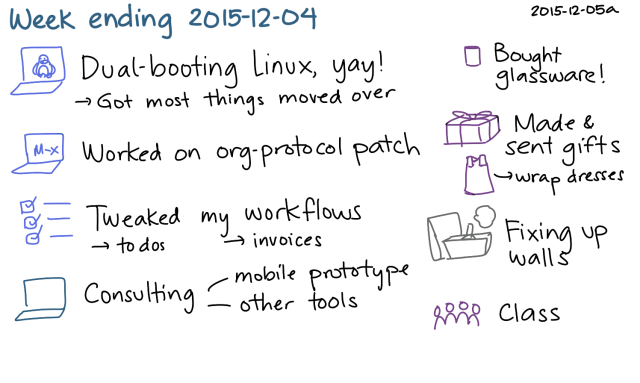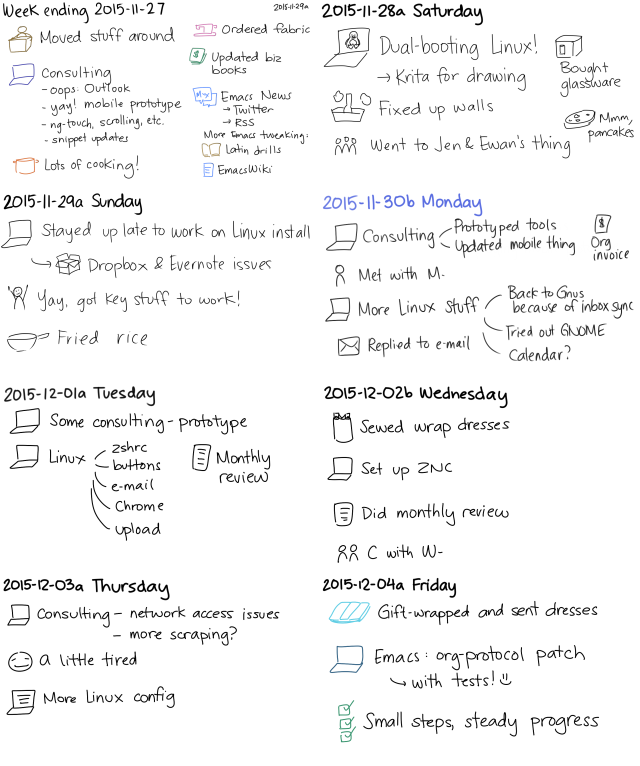 Blog posts
Sketches
Focus areas and time review
Business (27.6h – 16%)

Earn (12.2h – 44% of Business)

☑ Update data extract
☑ Reupload to B
☑ Scrape avatars
☐ Use scraped avatars
☐ Earn: E1: 1-2 days of consulting

Build (14.4h – 52% of Business)

Drawing (2.3h)
Paperwork (0.3h)

Connect (0.9h – 3% of Business)

Relationships (7.9h – 4%)

☑ Buy stuff
☑ Go to Jen's thing
☑ Meet M
☑ Call to check on U
☑ Write letter and package gift
☑ Check with W- about JordiGH
☑ Copy insurance information

Discretionary – Productive (18.0h – 10%)

Emacs (7.7h – 4% of all)

☑ Investigate org toc local section
☑ Do another Emacs News review
☑ Make a fill-in drill based on an Org table
☑ Make invoice template in Org Mode
☑ Look into org-agenda-sorting-strategy and tag-up
☑ Update patch based on feedback
☑ Sort out stylus clicks in Emacs
☐ Add layer resize as a button to Emacs
☐ Announce Hangout
☐ Do another Emacs News review
☐ Debug Emacs crashes

Linux stuff

☑ Sort out my wireless issues
☑ Figure out Evernote
☑ Replace flickr.bat
☑ Figure out Dropbox
☑ Mount with Truecrypt
☑ Set up screen rotation
☑ Set up server backup partition and space
☑ Back up Flickr files somewhere
☑ Clean up old WordPress sites on the server
☑ Back up etckeeper with git
☑ Look into automating krita
☑ Explore Krita interface – automate resizing a layer
☑ Learn about Klipper clipboard actions
☑ Get headphones working
☑ Generate gpg key with expiration date
☑ Automate addition of output.png
☑ Swap previous/next and pageup/pagedown buttons
☑ Set up a GPG-encrypted file with one-time passcodes
☑ Set up zshrc prompt
☑ Figure out a better mail solution that synchronizes with Google's inbox
☑ Upgrade to 15.10
☑ Look into Chrome + emacsclient integration
☑ Fix flickr-upload.js
☑ Fix org-protocol on KDE – port field was empty
☑ Re-memorize declensions
☑ Figure out wacom settings for KDE5
☑ Set up znc
☑ Look into hibernation
☑ Port over growth-projections.xlsx
☐ Review, organize, and document my backups

Sewing (3.5h)

☑ Order more Kam snaps
☑ Look for fabric
☑ Sew wrap dress
☑ Wash new fabric
☑ Analyze fabric costs
☐ Sew two more covers

Writing (5.8h)
☑ Re-memorize declensions

Discretionary – Play (4.0h – 2%)
Personal routines (29.6h – 17%)
Unpaid work (22.2h – 13%)
Sleep (58.6h – 34% – average of 8.4 per day)
You can comment with Disqus or you can e-mail me at sacha@sachachua.com.