A- was more awake this week, which was great. A lot of that wake time was during the graveyard shift, though, and some cluster feeding meant that my sleep's been a bit more broken-up than last week. Still, I'm more comfortable with the idea of on-demand feeding than the idea of making her get on some kind of schedule, so it's a trade-off I'm willing to accept.
Singing is turning out to be good mental exercise for my fuzzy brain: it's stimulating for A-, I train my memory by learning lyrics, and it's fun challenging my brain to think of the next line as I'm singing the current one so that everything flows smoothly. Both the hearing test and the 4-week checkup went fine.
I sewed another soft cube for the newborn of some friends, and I'm looking forward to dropping that off. I picked up some fabric, too, and I'm looking forward to turning that into clothes when things settle down.
On the non-baby front, I learned more about d3 visualizations and drawing graphs with a shared axis. I also checked in with my consulting client. We've got some ideas for visualizations I can noodle around here and there, so that should be fun. Managed to fit in some cooking, too – hooray!
This week's achievements:
Sic Transit: A- and I took public transit to the 4 week checkup with the midwives, yay!
9 Pounds of Awesome: What it says on the tin. And the scale.
Just Don't Let Me Near Production Servers: A little bit of consulting. Seemed fine, but there might be a catch 22 there – am I too sleep-addled to tell if I'm sleep-addled? Playing it safe.
Cluster F: Frequent feeding. Early in the morning, too!
Open Air Poosplosion: Possibly related to the previous achievement.
Break Out the Carpet Vacuum: Definitely related to the previous achievement.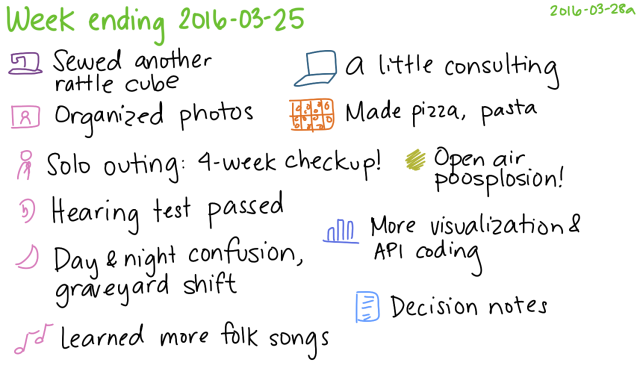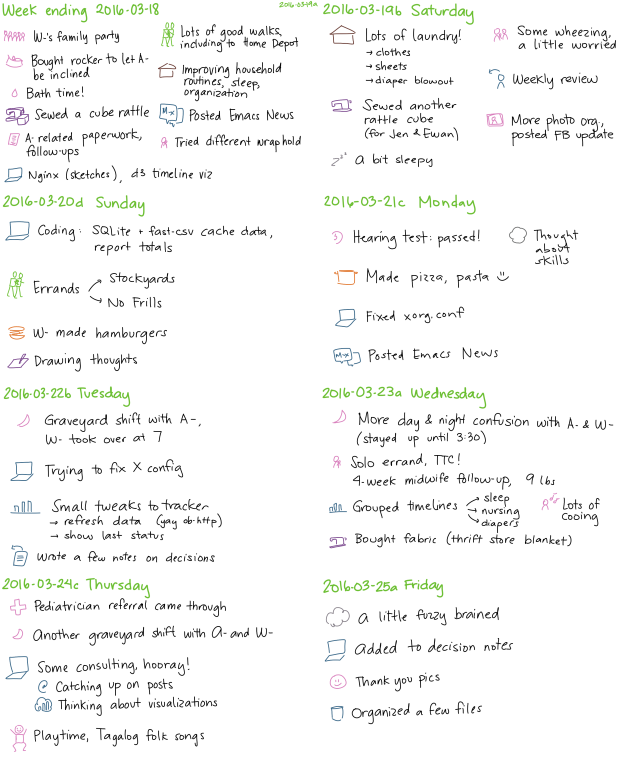 Blog posts
Sketches
Focus areas and time review
Business (5.3h – 3%)

Earn (2.4h – 44% of Business)
Build (0.3h – 5% of Business)

Drawing (0.0h)
Paperwork (0.0h)
☑ Check images for Quantified Awesome

Connect (2.6h – 49% of Business)

Relationships (2.0h – 1%)

☑ Trim Neko's claws
☑ Call Eye Clinic and ask about referral to CNIB
☑ 4-week appointment with midwife
☑ Take picture with Tracy
☑ Check re genetic testing referral
☑ Thank you notes
☑ Take A- to hearing test
☐ Check with OHIP re name change

Discretionary – Productive (12.3h – 7%)

Emacs (1.0h – 0% of all)

☑ Do another Emacs News review

Coding

☑ Dump SQLite as CSV
☑ Add button for refreshing data
☑ Add wrapper functions for website
☑ Display latest status
☑ Add relative times to visualization
☑ Add relative time to API
☑ Add a note input to my-track.html
☑ Add visual feedback on successful track
☑ Get childcare to open babyconnect
☑ Fix X server

Sewing (0.8h)

☑ Make cube for Jen and Ewan

Writing (1.5h)
☑ Research bike trailer strollers

Discretionary – Play (0.9h – 0%)
Personal routines (15.7h – 9%)
Unpaid work (66.6h – 39%)

Childcare (58.4h – 34% of total)

Sleep (65.2h – 38% – average of 9.3 per day)
You can comment with Disqus or you can e-mail me at sacha@sachachua.com.