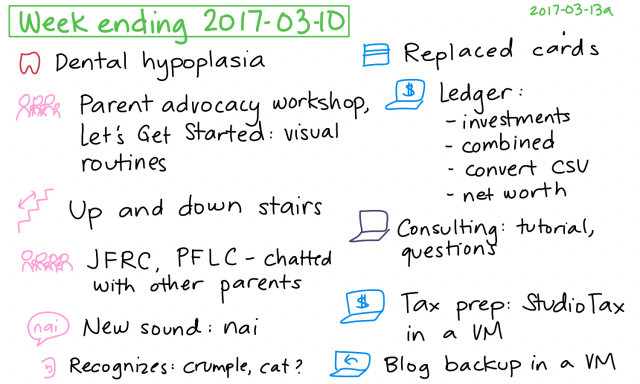 Following up on last week's recommendation to go see a dentist for A-, I took A- to her first dentist appointment. It turns out that she has enamel hypoplasia, a developmental defect that results in incomplete enamel. It's associated with a higher risk of cavities, so we'll be extra careful about brushing her teeth and minimizing sweets. It may or may not affect her permanent teeth. We'll see. Anyway, it's just something to deal with.
The first session of the parent advocacy workshop was an overview of the 6-week series, definitions of advocacy, and group sharing. It got me thinking about what A- could learn from how I advocate for her. I don't know what kinds of accommodations we might need, but I hope to be able to take a collaborative approach to continuous improvement. I'd love it if A- absorbed the message "We're all different, and it's good to adapt our environment to reduce barriers and help us" rather than "I have to be treated specially because of my limits". I'm still going to tap all the resources I can, but that's because I like learning. :)
The Let's Get Started session focused on visual routines, and I posted a few notes on that and previous sessions. I've been making an effort to use more visual props when talking to A- or transitioning between activities: a diaper, the potty, her high chair, the sleep sack…
We've been working on pointing, too, as I realized we hadn't emphasized that and it's usually a 12-month milestone. She's starting to get the hang of it, gesturing towards things she's interested in and sometimes even sort of pointing with a finger.
A- practised crawling up and down the carpeted stairs to the second floor. She sometimes needs a reminder at the top of the staircase to go down legs-first, but is otherwise surprisingly capable. We decided to skip installing baby gates for now since I'm with her, and she seems to like having stair practice time. She works so hard!
We went to the Junction Family Resource Centre and the Parenting and Family Literacy Centre. A- is getting better at playing independently. I had a bit of time to chat with the facilitators and the other parents, and even to flip through the red flags guide by the City of Toronto.
A- figured out a new sound ("Nai") and seemed to recognize the words "crumple" and "cat".
I did a little consulting, too. I added a categorization feature, wrote a tutorial, and helped transfer some more of my code.
I replaced my credit card and reactivated my library card, so that's all sorted out now. I also updated my Ledger to correctly tally up my investments, explored tools for converting bank data, and created a net worth summary report. I needed the investment records in order to double-check the book value for my taxes, which I started preparing in a VM. I also set up incremental backups with borgbackup and a VM for testing my blog backups, yay!
It's great to have focused time for process improvement. Looking forward to more tweaking!
Blog posts
Sketches
Focus areas and time review
Business (1.0h – 0%)

Earn (0.9h – 93% of Business)
Build (0.1h – 6% of Business)

Relationships (1.5h – 0%)
Discretionary – Productive (11.4h – 6%)

Drawing (1.5h)
Emacs (0.8h)

☑ [#A] Do another Emacs News review
☐ [#A] Do another Emacs News review

Coding (3.2h)

☑ Set up WordPress inside a VM

Tracking

☑ Add prices
☑ Report in nwi-style
☑ Fix locked in RRSP
☑ Try out Studiotax in a VM
☑ Pivot my accounts for easier balance checking
☑ Update TFSA
☑ Fix GIC balance
☑ Set up combined ledger
☑ Update A-'s ledger

Writing (0.3h)

Discretionary – Play (0.1h – 0%)
Personal routines (12.9h – 7%)
Unpaid work (87.4h – 52%)

Childcare (76.2h – 45% of total)

Sleep (53.7h – 31% – average of 7.7 per day)