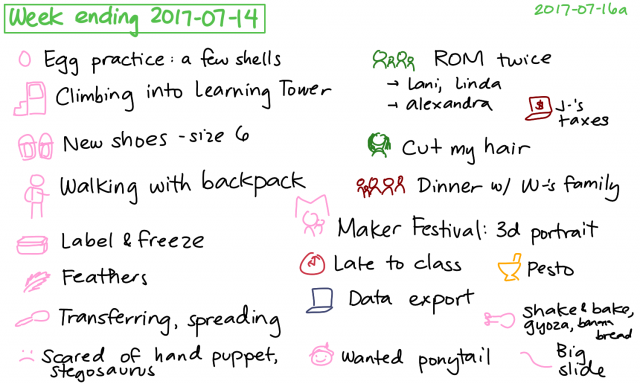 A- and I went to the Maker Festival at the Toronto Reference Library. It was great to see so many people enthusiastic about all sorts of things. We had a 3D portrait taken by Alan Majer, which was pretty cool (even though A- was crying). I've backed up the object model along with the rest of A-'s pictures. Might be fun to review in the future. I took A- to the ROM twice this week, too: once with some people from music class, and once with a mom and a kid from the JFRC.
The Learning Tower turned out to be a good platform for gross motor development. A- has been very interested in climbing into and out of it with the help of a step stool. She's also been walking a fair bit, especially when she has her backpack on. I got her soft Tickle Toes leather shoes in size 6, and she prefers them over her other shoes. She went down the big-kid slide with W- quite a few times, which involved climbing up ramps and short walls with a little help.
Lots of egg-cracking practice. Only little bits of shell! I also got A- involved in making shake-and-bake chicken, gyoza, and banana bread. She practised transferring yogurt from one bowl to another using a spoon, and she's also been working on spreading peanut butter on crackers.
A- was not particularly interested in the craft activity involving feathers – not anxious, but not keen on touching the feathers unless it was to put them away. She was scared of a hand puppet at the ROM and a stegosaurus figurine at the JFRC. Ah well.
It's amazing how much she observes and imitates. She put playdough into small containers, smoothed pieces of tape onto the lids, and carried the containers to the freezer, like the way we put away food that we've prepared in bulk. She tried tying her hair with a rubber band. Hard with such short arms! I looped a ponytail band around some of her hair so that she could try that out, but her hair's fine enough that it was easy for A- to pull the band off. I think she wanted to do it herself, though. Someday!
Misc:
W- spent 2.5 hours turning $18 of basil, three packages of pine nuts, a wedge of Parmesan cheese, and some olive oil into lots and lots of yummy pesto.
A- and I were late to music class because I forgot to set an alarm, so I've set a recurring alarm now.
I helped J- file her taxes for 2015.
We had W-'s mom and one of his nieces over for dinner. Gyoza, yum yum!
I cut my hair back to shoulder-length. Nice and light for summer!
Consulting: I worked on exporting data.
I've been experimenting with an outline in my journal. Promising, although a little more work.
Blog posts
Sketches
Focus areas and time review
Business (4.0h – 2%)

Earn (4.0h – 98% of Business)
Build (0.1h – 1% of Business)

Relationships (7.6h – 4%)
Discretionary – Productive (8.3h – 4%)

Drawing (5.4h)
Emacs (1.9h)
Coding (0.6h)
Writing (0.3h)

Discretionary – Play (1.4h – 0%)
Personal routines (21.8h – 12%)
Unpaid work (9.1h – 5%)
A- (Childcare) (64.0h – 38% of total)
Sleep (51.8h – 30% – average of 7.4 per day)