What collaboration challenges do large teams face? Here are the key problems I often hear from people, organized in a rough flow of how teams encounter them within each category. Can you help me improve this list?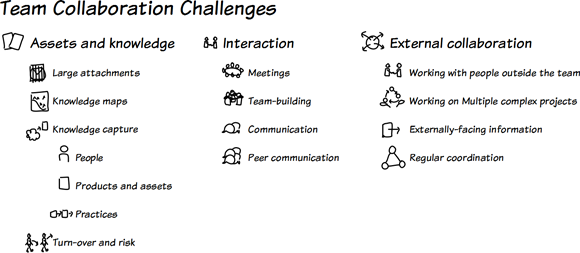 Assets and knowledge
Large attachments: People feel this particularly strongly in IBM because the system imposes "mail jail" if your mail database goes over a certain size, and it can take hours for people to archive and reorganize their mail in order to accept the attachment. The problem is exacerbated by large distribution lists that include people for whom the attachment is not relevant. Costs: Wasted time, increased server storage costs, increased bandwidth costs
Knowledge maps: Assets are scattered in different repositories and websites. People don't have an overview of the different information sources the team uses, what to find where, and what to look at first. Costs: Wasted time figuring things out again or answering FAQs, duplicate work, duplicate storage, time spent answering FAQs
Getting knowledge out of people's heads: When teams start building their knowledge maps, they often realize that much of the knowledge their team relies on has not been written down. Costs: Wasted time figuring things out again or answering FAQs, duplicate work, increased risk of project delay or failure if a team member becomes unavailable. This challenge is usually broken down into:

Expertise mapping: Without a shared understanding of team roles, the team can suffer lack of coordination and duplicate work. Even with a rudimentary expertise mapping system such as a list of people and their roles, new team members can begin to find people who may have the assets they need. Without an expertise map, team members must rely on a few well-connected managers or team members to find people, and the process of personal referral can take time.
Products and assets: The next step after expertise location is asset-sharing. Without an asset repository of deliverables and working documents that people can reuse, team members may need to keep reinventing the wheel.
Experiences, ideas, tips, and best practices: If people can invest in examining and improving their processes and tools, they can share these tips with other team members and contribute towards emerging best practices. Without this kind of reflective practice, however, team members may waste time and miss opportunities due to ineffective or obsolete processes.

Managing turnover and risk: As new team members come on board and other team members leave or become unavailable (vacation, retirement, sickness, etc.), the team needs to adapt. Without documented processes and easy-to-find assets, new team members can't work as effectively. Onboarding effectiveness also affects morale for both new members and existing team members. If team members become unexpectedly unavailable, the project could fail or be significantly delayed. Costs: wasted time, missed opportunities, less flexibility
Interaction
Meetings: With an increasingly globally-distributed workforce, teams need to learn how to use virtual collaboration tools more effectively. Telephone-only meetings can lead to limited interaction or disengagement. Face-to-face working sessions can incur significant time and financial investments. Costs: Wasted time, travel costs
Teambuilding: Without traditional team-building events, team members may not feel as vested in their team's success, or as comfortable collaborating with people they rarely or have never met. Costs: More friction in communication and teamwork, less effective work, less trust, limited growth opportunities
Communication: Multiple one-way broadcasts can be overwhelming for team members, who may end up ignoring newsletters and other e-mail. Without broad feedback channels, team leaders risk having limited insights and lack of buy-in. Costs: Lack of communication and shared vision, duplicate work
Peer-to-peer communication: Without a way to communicate with the larger team without being overwhelmed, members may end up collaborating with only a handful of people. They don't benefit from other people's experiences or shared resources, and other people can't build on their work. Costs: Wasted time, duplicate work, more limited growth opportunities
External
Working with people outside the team: Team members often need to work with people who may not have access to the team's resources. This collaboration typically involves lots of e-mail. New collaborators may not be aware of the project history or assets. Distribution lists go out of date or are not consistently used. No one has the complete picture of the project. Costs: Wasted time, frequent miscommunications
Working with people on multiple projects: The problem of coordination is exacerbated when team members juggle multiple projects. Making sure that new collaborators receive all relevant, up-to-date information can take a lot of time if the assets and project decisions are scattered among lots of messages in people's inboxes. Costs: Wasted time, frequent miscommunication
Publishing externally-facing information: A team often needs to provide overviews and other information for other groups. Without a single up-to-date collection of information, team members need to find and send the most relevant information each time it's requested. Costs: Wasted time, inaccurate information
Regularly coordinating with other teams: A team may need to regularly keep up to date with the work of relevant teams, without being overloaded by updates. Cadence meetings take time and can be difficult to schedule. Without a record of the discussions and other ways to share updates, team members may struggle to identify relevant news in a time-effective manner. Costs: Duplicate or incompatible work, leading to wasted time
Does that resemble what you see? How can we make this list better?
—-
Goal: Map the challenges, look for teams that address these challenges well, make preliminary recommendations based on their practices, and then help teams identify their priorities and next steps