Click on the image for a larger version of sketchnotes. This talk is part of the free MaRS Entrepreneurship 101 series (webcast and in-person session every Wednesday!)
Feel free to share this! You can credit it as (c) 2012 Sacha Chua under the Creative Commons Attribution 2.5 Canada licence.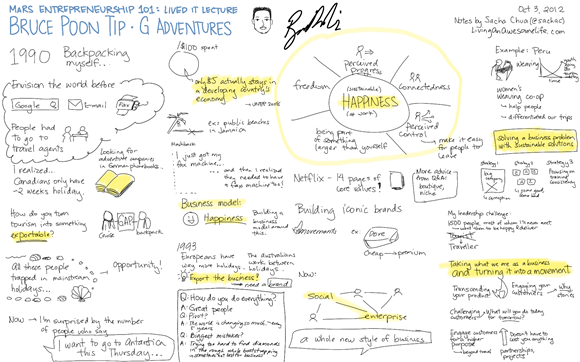 Missed the first session? Check out my sketchnotes for Finding and Validating Your Idea (Keri Damen).
Liked these notes? They're fun to do and I'm happy to share them. I learn, other people learn, everyone's happy! If you want, you can set up some time for tea/hot chocolate/Skype/Google Hangout (or e-mail me your thoughts), tell me what you're interested in, and help me in my quest to learn how to get really good at connecting the dots. =)
Looking forward to sharing more notes next week!