(If you want, you can skip past the reflection on anxiety and safety and jump straight to the part on
how you can help
. =) )
Having resolved to learn how to work on my own things, I'm experimenting with reducing my consulting to one day a week (from last year's routine of two days a week). I spend most of the week reading, drawing, writing, experimenting, and coding.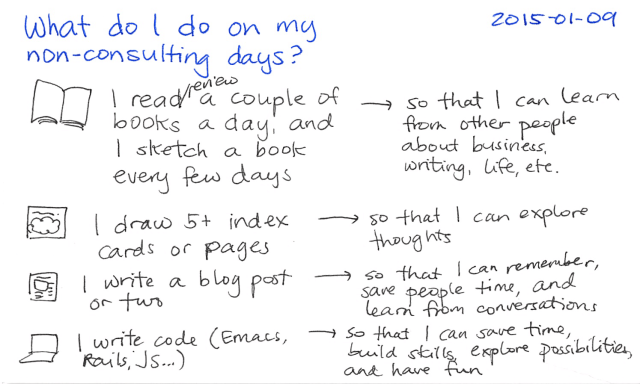 It's not a big change in terms of hours. I already have plenty of time for personal projects. But I feel the shift in the balance. I can hear that inner self-doubt saying, "Is this real work? Is it worthwhile? Is it sustainable? Are you undermining your safety by goofing off?"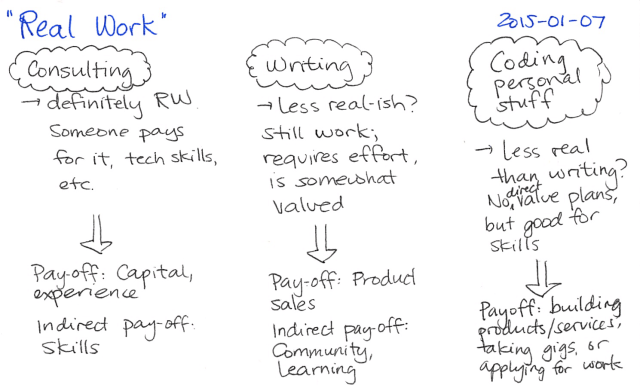 It's okay. I expected this resistance, this anxiety. It's just one of those mental barriers I have to break. Fortunately, all those Stoic philosophers are there to remind me that it's just a negative impression, not reality, and the truth is that I have nothing to fear.
I'm getting better at telling that anxious part of my mind: "Look. Even though I offer all those resources for free, people willingly pay for it. And other people write wonderful comments and send me e-mail telling me that I've inspired them to learn more and that they want to help, so that counts too. Yeah, there's a chance I might need to go back to Regular Work if the stock market crashes or a catastrophe happens, but in the meantime, just give this a chance. And really, that scenario isn't the end of the world. Other people do okay. I can too. Besides, that's why we have safety nets, right?"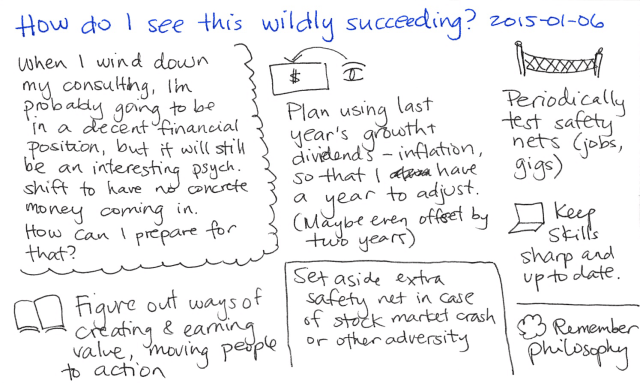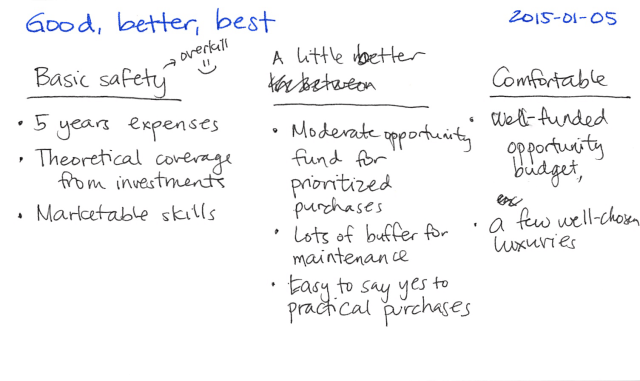 And then my anxious side goes, "Okay, you've probably got the basics covered. But what if your expenses grow, or W- gets tired of living frugally and wants to upgrade lifestyles a little bit? Is this really enough?"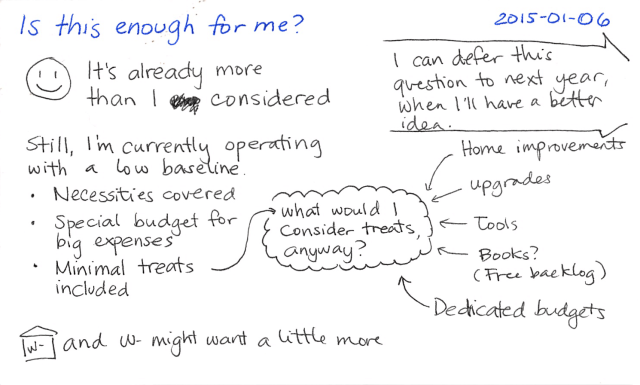 And then I say, "We'll probably have some time to adjust our plans for that, and I can always go back to doing Real Work that satisfies you. Besides, if we want to upgrade our life experiences, learning the skills to make stuff for ourselves often works out better than buying things. Like cooking!"
(It's true! It's even called the IKEA effect.)
Then my anxious side goes, "Fine. Maybe you have enough space to experiment right now. You want to learn things and help people. But look at your blog! It's so self-centred. You talk about your questions and reflections, and you rarely give people tips they can directly apply to their lives."
Then I say, "I'll get better at writing for other people. In the meantime, this seems to be working okay so far. People translate my reflections into stuff that they can use."
Here's how I think my blog helps other people at the moment. Maybe you come across my blog because of a search. You find something that saves you a little time. You browse around a little and learn about things you didn't even think about searching for. Maybe you come back once in a while for more of those ideas. You bump into other topics you're curious about, and you explore. You might subscribe, even though you know I post practically every day. You skim the headlines for things that interest you, and you dive into stuff you like. Sometimes you might even feel moved to comment, e-mail, invest time, or even send some money.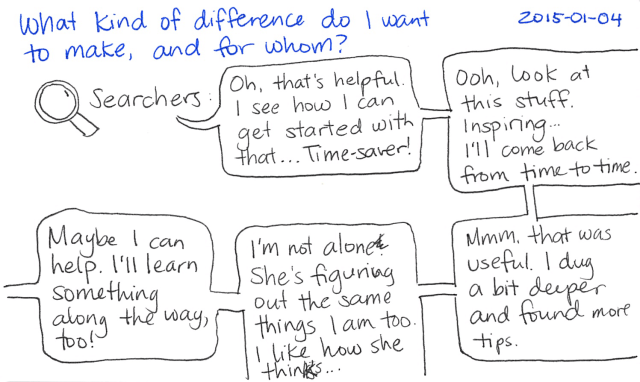 How people can help
My anxious side grumbles, "Okay. I'm not sure your blog counts as Real Work, but I'll grant that people seem to find some value in it. I'd feel better if you were more serious about building a business around it – if you could cover more of your expenses with this instead of consulting income or dividends."
To which I say, "You know, I'm not sure any amount of money would get you to the point of not worrying. Besides, it's good that you worry, because that helps keep us safe. This stream will grow as I figure out how to make things that are truly valuable to people. I bet you I can pull it off while still keeping the free/pay-what-you-want aspect, because that's important to me. Given that you tend to squirrel away additional money to build up safety instead of getting better at investing it to build up capabilities, what we really should be thinking about is if we can make better exchanges of time instead of money. That will probably make a bigger difference anyway."
My anxious side is sufficiently boggled by that idea and can't come up with a good rejoinder. This is promising. Let me dig into it further, then.
One of the concepts I picked up from Your Money or Your Life (Dominguez and Robin, 1999) is that you can think of money in terms of the time it took you to earn it, a sobering thought when you apply it to your expenses.
I can apply that idea to other people, too; if other people pay money for something I made, it represents the chunk of their life that they spent earning it (and the opportunity cost of anything else they could've bought or invested in, including saving up for their own freedom).
I'm frugal (bordering on being a cheapskate), having gotten very good at making the most of inexpensive resources. Because of the typical mind fallacy, I tend to think that other people should be frugal as well so that they can save up for their own freedom. I suspect that people might get marginally more value from saving that money than I would get from them giving it to me, since their stress reduction or freedom expansion will likely outweigh my slightly increased feeling of safety. On the other hand, people do get value from feeling generous and from patronizing something that they would like to see flourish, so I can agree with that.
If we translate it back to time, though, I'm more comfortable with the exchange.
I already have enough time for the priorities in my life, while many people feel that they don't have enough time for the priorities in theirs. Adding more money to my life doesn't easily translate into additional or more effective time (aside from transcripts and tools, which I already budget for), while translating that money back into time might make more of a difference in other people's lives. So a direct swap doesn't make sense.
However, if we can exchange time in an apples-and-oranges sort of way, that might make sense. That is, if someone gives me 15 minutes of their time that translates to much more than 15 minutes of my time or might even be something I could not do on my own, that would be fantastic. This could be something that takes advantage of someone's:
experience or particular mix of interests
ideas, knowledge
perspective (writing, coding, and all sorts of things can be improved with the perspective of someone who is not me)
questions
connections
Technically, delegation is supposed to help me translate money into time that is qualitatively different from my time, but my anxious side has not been very good at evaluating, trusting, or making the most of learning from people who know different things than I do.
Figuring out a way to effectively receive other people's gifts of time might be what I need to break through this barrier.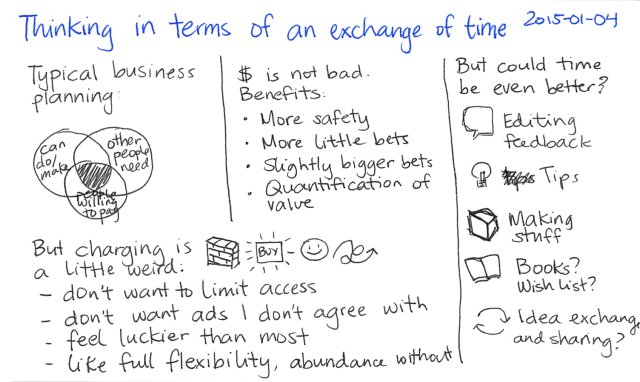 In fact, receiving time might be more effective than receiving money. Not only could that get around my difficulty with finding and paying other people for the qualitatively different time that I want, but if we structure it right, people will gain from the time that they give. If someone asks me a good question that prompts me to learn, reflect on, or share something, we both gain. If they invest more time into experimenting with the ideas, we gain even more. I can't actually buy that on any of the freelancing or outsourcing marketplaces. There's no way for me to convert money into that kind of experience.
So, how can people can give me 15 minutes of time in a way that helps them and helps me? Let me think about different things I'm learning about: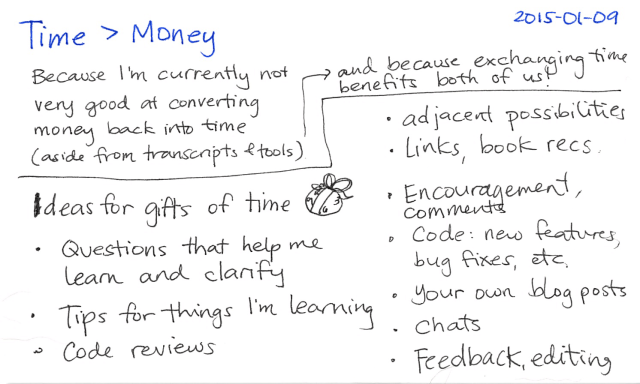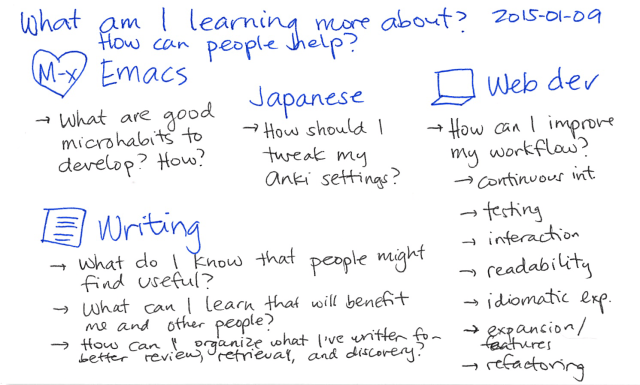 It makes sense to organize this by interest instead of by action.
Emacs: Ask a question, pass along a tip, share a workflow. Also, I really appreciate people showing up at Emacs Hangouts or being on Emacs Chats, because my anxious side is always firmly convinced that this will be the day when no one else shows up to a party or that conversation will be super-awkward.
Coding in general: There are so many ways I want to improve in order to become a better programmer. I should set up continuous integration, write more tests, refactor my code, learn more frameworks and learn them more deeply, write more idiomatic code, improve performance and security, get better at designing… I find it difficult to pay someone to give me feedback and coach me through setting things up well (hard to evaluate people, anxious side balks at the price and argues we can figure things out on our own, good programmers have high rates), but this might be something we can swap. Or I could work on overriding my anxious side and just Go For It, because good habits and infrastructure pay off.
Writing: Comments, questions, and links help a lot. A few of my posts have really benefited from people's feedback on the content and the structure of ideas, and I'd love to learn from more conversations like that. I don't worry a lot about typos or minor tweaks, so the kind of editing feedback I can easily get from freelancers doesn't satisfy me. I want to get better at writing for other people and organizing more complex thoughts into resources, so I could benefit a lot from feedback, questions, as well as advice on what to learn and in what order.
Drawing: I'm not focused on drawing better (I can probably get away with stick figures for what I want to do!), but rather on being able to think more interesting thoughts. What would help with this? Hearing from people about which thoughts spark ideas in them, which ones I should flesh out further. Book recommendations and shared experiences would help too.
So: Paying for free/pay-what-you-want-resources is great at helping me tell my anxious side, "Look, people find this valuable," and that's much appreciated. But giving me time works too. If we can figure out how to do this well, that might be able to help me grow more (at least until I sort out a way to talk my anxious side into letting me invest more in capabilities). Shifting the balance towards time is probably going to make my anxious side more anxious, but I might be able to tell it to give me a year or two to experiment, which is coincidentally the rest of this 5-year span.
Wild success might look like:
Thanks to people's gifts of time and attention, I'm learning and doing stuff that I couldn't do on my own or with the resources I could get in marketplaces
Thanks to people's gifts of money (and maybe teaching), I've addressed more of my anxious side's concerns and am getting better at experimenting with the resources I can get in marketplaces
I can incorporate people's feedback and revealed preferences in my prioritization so that I work on things that other people find valuable
I could use your help with this. =) Shall we figure it out together?