Brainrider hosts these wonderful monthly meetups for marketers (digital and traditional) in Toronto. Click on an image for a larger version of the sketchnotes. Feel free to share these under the Creative Commons Attribution 2.5 Canada licence!
Dragging an Organization into the Digital Age – Sarah Major and Jeanie Hendrie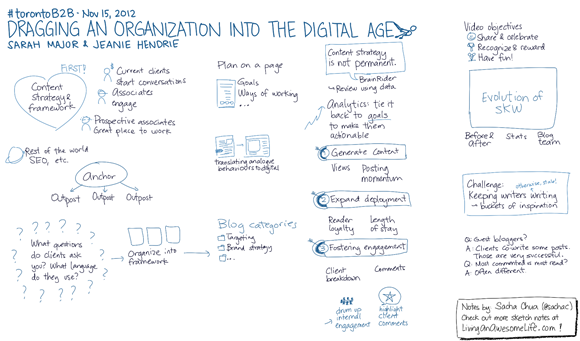 7 Steps to Social Media Success, Richard Marginson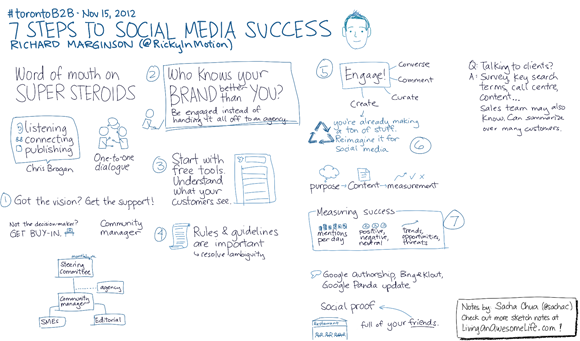 Like these? Check out sketchnotes for previous #torontob2b meetups or my other sketchnotes!
Text:
DRAGGING AN ORGANIZATION INTO THE DIGITAL AGE
Sarah Major and Jeanie Hendrie
#torontoB2B
Nov 15, 2012
First!
Content strategy and framework
Current clients start conversations
Associates engage
Prospective associates
Great place to work
Rest of the world
SEO, etc.
Anchor
-> Outpost
-> Outpost
-> Outpost
What questions do clients ask you? What language do they use? -> Organize into framework -> Blog categories (Targeting, Brand strategy, …)
Plan on a page
Goals
Ways of working
…
Translating analogue behaviours to digital
Content strategy is not permanent.
BrainRider
-> Review using data
Analytics: tie it back to goals to make them actionable
Generate Content
Views
Posting momentum
Expand deployment
Reader loyalty
Length of stay
Fostering engagement
Client breakdown
Comments
drum up internal engagement
highlight client comments
Video objectives
Share and celebrate
Recognize and reward
Have fun!
Evolution of SKW
Before and after
Stats
Blog team
Challenge:
Keeping writers writing, otherwise stale!
-> buckets of inspiration
Q: Guest bloggers?
A: Clients co-write some posts. Those are very successful.
Q: Most commented vs most read?
A: Often different.
7 STEPS TO SOCIAL MEDIA SUCCESS
Richard Marginson (@RickyInMotion)
#torontoB2B
Nov 15, 2012
Word of mouth of SUPER STEROIDS
listening
connecting
publishing
Chris Brogan
One-to-one dialogue
1. Got the vision? Get the support!
Not the decision-maker?
GET BUY-IN.
Community manager
monthly, etc.
Steering committee
–agency
Community manager
-SMEs
-Editorial
2. Who knows your BRAND better than
YOU?
Be engaged instead of handing it all
off to an agency.
3. Start with free tools.
Understand what your customers see.
4. Rules and guidelines are important.
– resolve ambiguity
5. Engage!
converse
comment
curate
create
6. you're already making a ton of
stuff.
Reimagine it for social media
purpose -> content -> measurement
7. Measuring success
mentions per day
positive, negative, neutral
trends, opportunities, threats
Google authorship, Bing and Klout,
Google Panda update
Social proof
Restaurant
full of your friends.
Q: Talking to clients?
A: Survey, key search terms, call
centre, content..
sales team may also know, can
summarize over many customers.